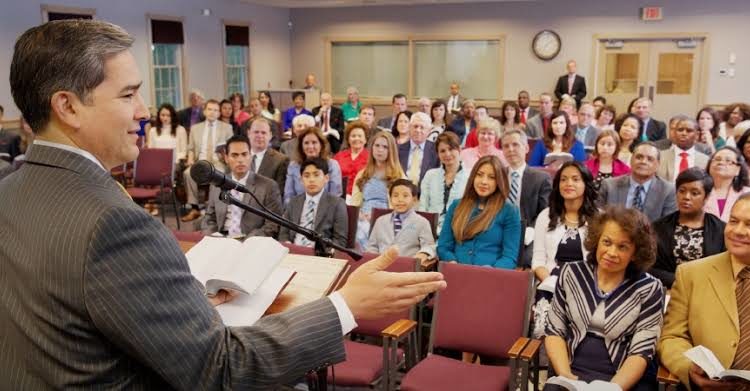 2019 regional convention of Jehovah's Witnesses ends in Ibadan The last in the  9th  series of this year's annual regional convention of Jehovah's Witness will take place this weekend, from Friday, December 13 to Sunday December 15 , at the Assembly Hall of Jehovah's Witnesses, Ifatumo Village, along Lalupon-Ejioku road, Ibadan.
  The theme of the 2019 regional convention of Jehovah's Witnesses is "LOVE NEVER FAILS!" .
No fewer than 50,000 delegates of Jehovah's Witnesses from Oyo ,Ogun and Osun states have attended the ongoing regional convention of the Witnesses in the ancient city of Ibadan , which commenced in October 4, 2019.
The three-day convention will be held in English .
In a press release issued by a local representative of the convention , Gill Adekannbi, and made available to newsmen in Ibadan yesterday ,  "This event will illustrate the positive influence that love can have to bring people together from diverse backgrounds in our hate-filled world".
Adekannbi noted that the convention programme will examine how Bible principles help people in practical ways".
The Friday programme focuses on how love can help people surmount obstacles of having a troubled upbringing, chronic illness, or poverty to name few.
On Saturday, the Bible principles that husbands, wives, and children can apply to show unfailing love for one another will be highlighted.
The programme for Sunday will include a Public Bible discourse entitled, "True Love in a Hate-Filled World. Where?"
" The discourse will address how to overcome prejudice and hatred. In the course of the three-day programme, video interviews and drama enactments will be featured and each session introduced with musical-video interludes.
On Friday and Saturday respectively, the programme begins at 8.20am and ends at 3.50pm.
On Sunday, the programme begins at 8.20am and ends at 2.30pm."
The statement stressed that Jehovah's Witnesses warmly welcome their neighbours to this convention that is free to the public, and emphasized that no collections will be taken.