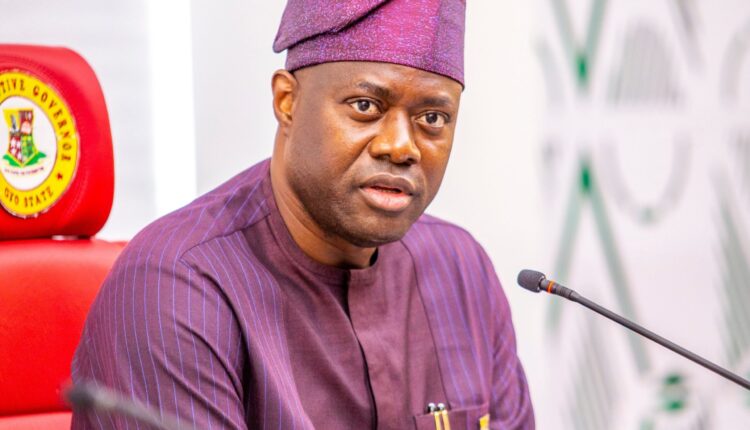 Controversies As High Chiefs Get Beaded Crowns Governor Seyi Makinde's move to crown 11 Ibadan High Chiefs to beaded crown Obas has generated criticism from the states' All Progressives Congress (APC).
Oyo Echo reports that Oyo APC's criticism came against the backdrop of controversies surrounding the recent amendment of Chieftaincy Act which ultimately confers more power and authority to the state governor.
APC through its publicity secretary has reacted to the state's readiness to crown 11 of the high chiefs saying that Makinde "needed to purge himself of alleged penchant for double standard, craftiness and insincerity for him to leave an enduring legacy at the completion of his tenure of office."
The crowning ceremony officially slated to hold on Friday, July 7, 2023 will see the likes of Balogun of Ibadanland; Owolabi Olakulehin, Otun Olubadan of Ibadanland; Rasheed Ladoja, Otun Balogun; Tajudeen Ajibola, Osi Olubadan; Eddy Oyewole, Osi Balogun; Lateef Adebimpe, Ashipa Olubadan; Biodun Kola-Daisi, Ashipa Balogun; Kola Adegbola, Ekerin Olubadan; Hamidu Ajibade, Ekerin Balogun; Olubunmi Isioye, Ekarun Olubadan; Bayo Akande and Ekarun Balogun; Abiodun Azeez becoming kings under the imperial majesty of the Olubadan.
While a source close to the governor claims that the governor's approval was sequel to the recommendation of the Olubadan of Ibadanland, Oba Lekan Balogun, Alli Okunmade II, who is the prescribed and consenting authority, Oyo APC is pointing accusatory fingers on the state governor.
The source had said, "This elevation would have come earlier before now. Even before the administration of the late former governor, Abiola Ajimobi. Ajimobi had a good intention on this elevation but the approach was wrong. Why would you just wake up one day and do something of such nature in just three days or thereabouts.
"You will be shocked when you see some Obas from other places who are not even up to High Chief in Ibadanland in a public place with a large entourage. But sometimes, our High Chiefs are regarded as mere chiefs. So, it's a good decision and the governor has given his consent on that. They will be officially crowned on Friday, July 7, 2023 as stipulated in a letter sent to the governor by His Imperial Majesty, Oba Balogun."
However, Oyo APC has through a statement issued by its Publicity Secretary, Olawale Sadare, berated the state government over an alleged coercion of the 9th State House of Assembly to insert some new clauses into the existing Chieftaincy Act with a view to aiding the desire of Gov. Makinde to turn a full despot who would have absolute power to act and satisfy his whims and caprices at will.
"As a political party made up of patriots and urbane people, we are of the opinion that no leader should seek absolute power over his subjects including the custodians of the traditional institution. What late Senator Abiola Ajimobi did in 2018 was purely to advance the cause of Ibadan – the Oyo state capital but the table was turned against him by some selfish political players. In a transparent manner, Ajimobi administration legally elevated all members of Olubadan-in-council and some Baale to Coronet-wearing Oba (junior to the Olubadan) but the unscrupulous elements claimed he acted wrong.
"Interestingly, the same Engr. Makinde (a PDP gubernatorial aspirant at that time) who led the rebellion against the process is not only trying to implement it now but has also taken the full advantage at his disposal to strip the Council of Obas and Chiefs of their statutory rights to ratify the eligibility of a validly nominated heir to be coronated as an Oba where a vacuum exists. As it stands now, only the governor can determine who becomes a new Oba in any part of the state and this implies that Eruwa, Igangan, Oyo, Ogbomoso, Iseyin and other ancient towns must literally worship Gov. Makinde to have new Obas.
"It is a height of double standard and insincerity for Engr. Makinde to nail Sen. Ajimobi on the cross over a developmental stride only to defy decorum to implement the same blueprint five years after although with obnoxious insertions. Another pointer to the governor's insincerity is the recent orchestrated truce purportedly brokered among gladiators in the transport sector in the state which we have discovered to be a grand ploy to enrich him (Makinde) and few of his cronies." Sadare stated.
A source close to former governor, Sen Rashidi Ladoja who has been against the amendment moves has hinted that the Otun Olubadan will distance himself from the coronation of the High Chiefs as beaded crown Obas.
The source went further to state that Ladoja may likely approach the court to challenge the decision of the government on this development.
He said; "Baba is presently in Cotonou. He has not made his position known on this new development but I can tell you he will not be part of this comedy.
"The last time I spoke with him about it. What he said was that he did not set out to become a lesser Oba when he began the journey. His dream is to become the Olubadan and nothing less.
"I think Baba will be available in Ibadan before sallah. He will surely make his position known. You know he doesn't have the power to stop others from being crowned. But as for him,he will not be part of the coronation of High Chiefs. Baba has nothing against the elevation of those Baales to beaded crown Obas once due process is followed" the source submitted.