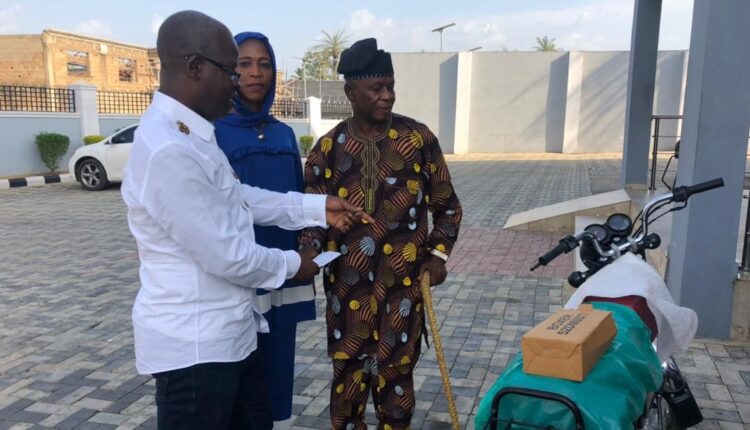 Encomiums As  Chairman Of Ilaji Resorts, Dotun Sanusi Rehabilitates Ibadan-Ijebu-Igbo Road The Chairman of Ilaji Resorts and Ilaji Farms, Engr. Dotun Sanusi on Friday made another yet history as he rehabilitated and completed road leading to Dagbolu, Araromi through Ijebu-Igbo in Ogun state.
Before now, residents of the area spend hours when they going to the other side of the vilages but with the development, the era of spending hours has gone, says residents.
Oyoecho reports that worried over their plight, the chairman of Ilaji embarked the project, hence, from the entrance of Ilaji Farms, one can now get to the border of Ibadan/Ogun State in Ijebu Igbo in less than 30 minutes.
It would be recalled that since Sanusi started turning around the area, prices of land has not only gone up, many houses have continued to spring up. To make light reach the people there, Sanusi had bought close to 200 electric poles. He also bought transformers.
Only few years ago, in the administration of 'Seyi Makinde, governor of Oyo State, he collaborated with the Oyo State Road Maintenance Agency to rehabilitate the 18 kilometes Olorunsogo-Akanran road. This was apart of the many palliative works he has done to alternative road due to the delayed road work in the area
Only recently, Sanusi put smiles on the faces of the  residents and motorists plying Olorunsogbo, Tioya round Monsifala To Abaomide, all in Ona-Ara local government, when, after close to two years of hardship, completed the rehabilitation of roads in the area.
The people of Araromi, led by their head, were at Ilaji Resorts, Akanran to show appreciation to Sanusi, who apart from being the Otun Apesinola of Ibadan is the Mogaji of his compound.
"Our many years of hardship is gone. We are grateful to Engr. Dotun Sanusi for this gesture. We will never forget him. Before now, we suffered. Businesses died. We faced economic hardship. It was like we were isolated," the Alararo of Araromi, Oba Mudasiru Musa Obisesan said.
Sanusi also donated a motorcycle to the police post in the area to help nip insecurity in the bud. The officer in charge or the post, ACP Rebecca Oyewale was grateful for the gesture, promising to make judicious use of of the equipment.