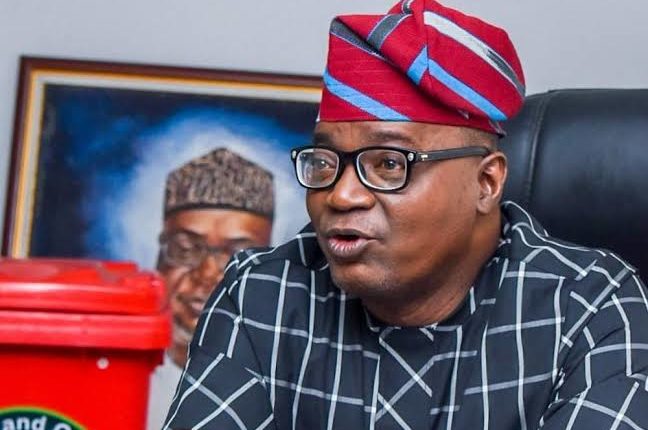 Give us Competent Environment Commissioner as Late Ayoola, AWDROP, Begs Makinde
Expelled 10 Erring members The Oyo State chapter of the Association of Waterwell Drilling Rig Owners and Practitioners (AWDROP), on Sunday begged the the governor of Oyo state to appoint a competent commissioner of environment as the late commissioner in the ministry, Hon. Kehinde Ayoola.
The association said the new executive had expelled ten erring members of the association, adding that the executive won't tolerate indiscipline.
The association's chairman in Oyo State, Mr. Yinka Kolawole, an engineer, raised the alarm when he addressed a press conference at the NUJ Press Centre, Iyaganku, Ibadan on Sunday, during which he urged individuals, corporate organisations, and government to know that the the AWDROP's executive under his leadership is the authentic one in the state.
Kolawole, who said 10 members of the association have been expelled based on contraventions of the AWDROP constitution, stated that foreign borehole drillers came to Nigeria for business and they have not been drilling boreholes with that fact that the underground water should be protected.
Kolawole, who was supported by members of his executive council, including the vice chairman, Deji Araromi; Secretary, Kehinde Olaniyi; Public Relations Officer, Oluwaseyi Ojo; and Director of Protocol and Strategic Planning, Ayo Akinyemi, noted that foreign borehole drillers had earlier done what they are doing in Nigeria presently in Tanzania, Ethiopia and a part of India, which made the governments of those countries to check their activities.
He stayed further that AWDROP is not against foreign borehole drillers from operating in Nigeria, but they must be put under a body like AWDROP to check their activities in order to protect Nigerian environment.
Kolawole noted that the way people have been drilling boreholes in many parts of the country, including    Ibadan, Lagos, Ogun, Abuja and other places called for a great concern.
His words: "Most of these Asian drillers left their countries to make money in Nigeria. In fact, most of them have been doing capital flight. We have gone on research on what they are doing. But the government is yet to acknowledge what we are doing, maybe because our industry is not a very loud one.
"Now, they have been doing indiscriminate drillings in Nigeria. Before we came in, most of the depths of drillings were about 40 metres, 50 metres and we had good water everywhere. But when they (Asian drillers) came in, they started drilling 100, 200, and 300 metres.  They have really gone into the earth core, which made us to research on them. We discovered that India is facing a major problem concerning underground water supply now because they have done the same thing they are doing to Nigeria now to India.
"So, our advice to the government is that they should empower AWDROP under our National President, Michael Ale, to raise the benchmark for the depths that all borehole should go. Right now, we have so much around and probably within the next 10 years, we will be having challenges of water because they have gone to the depths that they should not have gone into. If they don't stop now, we will be in a big problem. You can go on Google and see what they have done to India. They have virtually stopped drilling in some parts of India because they are facing serious drought in those areas. The story is the same in Ethiopia and Tanzania.
Kolawole also raised the alarm that hoodlums have been disturbing members of the association whenever they go out to drill boreholes legally, as they have always been accosted by the hoodlums, who have always been collecting money from them, urging the government and security agencies to come to their assistance.