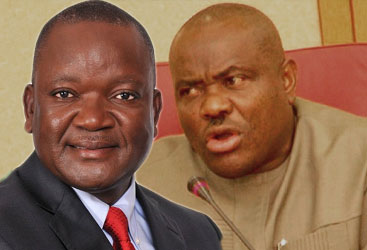 Group To Wike, Ortom: Don't Ask Buhari To Name Govs Spending LG Allocation, Your G5 Member, Makinde Guilty As Charged A political pressure group in Oyo State 'Rescue Local Governments from Gubernatorial Emperor (RLGE)' on Saturday commended President Muhammadu Buhari for exposing the atrocities of some State Governors who have been 'feeding fat' on the local government allocations at the expense of the grassroots development.
The RLGE, a group championing good governance, probity and accountability in government, also told Governors Nyesom Wike and Samuel Ortom of Rivers and Benue States respectively who have challenged the President to name culprits amongst the governors, not to be clever by half, 'because a member of their G5, Governor Seyi Makinde is the worst culprit in that regard'.
The Group in a statement by its Convener, Christopher Aderoju hinted that the Governor (Makinde) had publicly opened up two weeks ago in Oyo town that he has been utilising council funds to prosecute some State functions especially security, workers' salaries and other projects including funding of LAUTECH amongst others.
'Makinde had while on a consultation with the aggrieved PDP members disclosed that he has been using the local government funds to fund some fiscal projects of his administration.'
The group challenged Makinde to state how many billions of naira of the 33 Local Government administration since he assumed office in 2019, had been diverted for use, under his watch.
Aderoju said 'diversion of local governments allocations under Governor Makinde has accounted for why developments have taken flight at the grassroots level with its attendant poverty and widespread insecurity.'
The group while commending President Buhari for his transparency and accountability to the Nigerian masses, also lauded the two governors and their colleague in Delta State, Dr. Ifeanyi Okowa for coming out boldly to throw the gauntlet at Mr. President, meaning they are atleast not amongst those 'pocketing' Local Government allocations.
Buhari had three days ago said the stunted development experienced at the local government level was caused by governors and local government officials who "pocket" public funds.
Buhari flayed the governors over what he described as poor governance at the grassroots.
Buhari said this on Thursday at a parley with members of the Senior Executive Course No. 44 (2022) of the National Institute for Policy and Strategic Studies, Kuru, held at the State House Banquet Hall, Abuja.
The President's comments followed the Course 44 presentation themed, 'Strengthening Local Governance in Nigeria: Challenges, Options and Opportunities.'