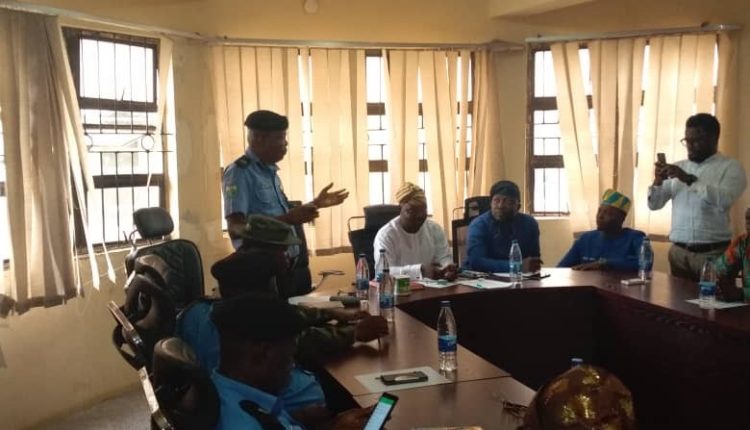 Hon. Akinajo Partners Security Agencies, Traditional Leaders, Others To End Egungun Rivalry, Power Tussle By Moses Adetayo
The power tussle usually erupted during egungun festival in Ibadan, the Oyo state capital may be a thing of the past with the collaboration of the Hon. Olamide Akinajo representing Ibadan North East state constituency 1 and the security agencies in the state.
Over the years, the Ibadan metropolis which includes areas like; Oja -Igbo, Ode-Aje, Kosodo, Ogbori – Efon, Ita – Baale, Kobomoje, Labiran, Oranyan and other hot spots in part of Ibadan North East and Ibadan South East are known for a places of violence during egungun festivals.
The hoodlums usually use the uproar to cart away people's belongings.
In bringing lasting solutions to the challenges, the lawmaker on Monday met in a close door meeting with the security agencies and the leaders of different groups to strategies on the way forward.
The lawmaker who described the meeting as timely peace meeting urged leaders of the groups to support the security agencies in ensuring that the story of the ancient city is rewritten.
He noted that Ibadan city belongs to each of the group, adding that no one will pray for his property to be destroyed at any point in time. "You are my brothers, you are having families in the violent affected areas with one or two investment in the area. I am sure you don't want your investments destroyed. Please, let us join hands in ensuring that Ibadan city remain united. Let us all work for the greatness of Ibadan land. We shall all reap the fruit of our labours," he said.
Earlier, one of the stakeholders and the, bearer of Bangbose masquerade, Mr Adegoke Lukman after analysing the roles of his followers, pledged his support to be a bodyguard to peace in his environment.
Also, Mr Kazeem Abuja, who is regarded as violent man and custodian of bad boys gave his support to the peace moves, also vowed to report any agent of distruction In his area to the security agencies.