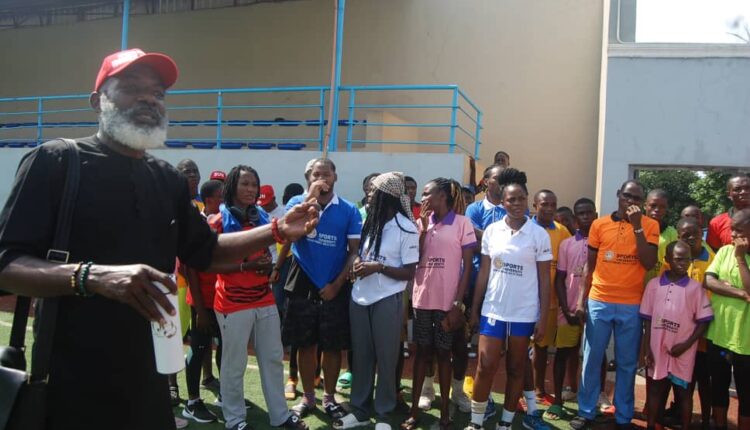 The government of Oyo State has been lauded over the ongoing dualisation of Olorunsogo-Akanran road which is projected to be an important factor in the speedy development of the area and its environ.
Sports administrators comprising foreigners and residents had converged at Ilaji Hotels and Sports Resort which is the venue of the trials for the 2023 student/Athletes Scholarship sponsored by a serving Senator Ned Nwoko from Delta State.
Senator Ned Nwoko; the Chancellor of Sports University of Nigeria, Idumuje-Ugboko, Delta State, and President of Ned Nwoko Foundation had applauded the initiative of Engr. Dọtun Sanusi for locating his business empire at Ilaji town, a move he described as developmental friendly.
The trial to pick 100 athletes to access a N2.5million scholarship each at the Sports University of Nigeria, founded by the Senator, started few days ago at the Ilaji Hotels and sports Resort.
A renown Sports Business expert, Dr Bob Olukoya of the Loughborough University London said the facilities they met at Ilaji hotel and sports resort is of global standard saying, "this state of the art sporting facilities and hotel accommodation are unbeatable, unparalleled and outstanding for the elites, youth sports development and the general public".
Olukoya who is also the Acting Director, High performance Centre, Sports University Idumuje,Delta State said, "the owner of these facilities, Engr Dotun Sanusi has done so well for humanity and Nigerian Government and other State Governments should encourage individuals as this Ibadan Chief by patronizing Ilaji hotel and sports resort," Olukoya was reported as telling participants on the sidelines of the 3-day event.
Another speaker at the event, Miss Ugochinyerè Onyewuenyi, lauded the Governor of the State, Engr Seyi Makinde for the ongoing road project leading to Ilaji Hotel and Sports Resort.
She said the timely completion of the road would enable sports business owners who have seen what's on ground here to site a Sports University in this community of Ilaji.
"Senator Ned Nwoko should be commended for his magnanimity towards youth development and societal progress. He has promised that should the road leading to this Ilaji gets fixed by November, another major tournament, would hold between November and December here at Ilaji.
"This multibillion Naira investment in sports development by both Senator Ned Nwoko and Engr Dotun Sanusi should be appreciated by all including leaders of Government and National Assembly members especially those from Oyo State. They need to design youth sports programme at Ilaji Resorts to lend a supportive hand to this man, Dotun Sanusi with a view of encouraging him to do more for humanity," Nwaoboshi added.
Miss chiamaka ohabughiro,squash coach University of Ibadan also described the facilities at Ilaji Sports Resort as outclassing those available at the IITA, Ibadan, stressing that Senator Nwoko also remarked on it when he spoke at the commencement of the event, days ago.
She said the proposed Sports University at Ilaji area is possible if the State Government creates more enabling environment and improve on the road infrastructures in and around Ilaji Hotels and Sports Resort.
"What Senator Ned Nwoko has done is a wake up call to other Senators from Oyo State and the State Government in general. We must at all times appreciate people who are helping to shape our world and changing our country's narrative for better.
"These facilities are what you see in a saner climes abroad and we need to patronize private investments like this Ilaji Hotels and sports to thrive and grow for its sustenance," Mr Osita Eving said.
On his part, Mr Jimmy Adebanwo, Swimming Coach, University of Ibadan admonished the athletes to make the best use of the opportunity provided by the Organisers of the event, just as he commended the facilities at the Ilaji Hotel and Sports Resort.
Also speaking the immediate past General Manager of the Oyo State Sports Council, Gboyega Makinde supervised participants as they were made to undergo trials in athletics, swimming, soccer, football, tracks and field, handball, basketball, volleyball, karate, cricket, para Badminton, table tennis, tennis and golf.