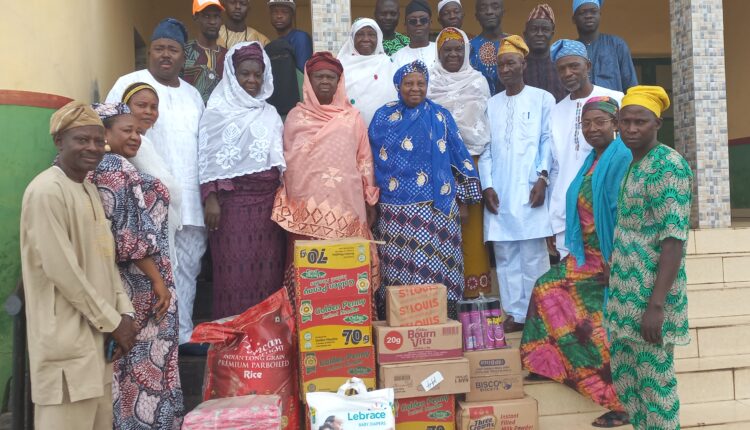 As part of the 78 years birthday celebration of a former governor of Oyo state, Senator Rashidi Ladoja, the Candidate of the All Progressives Congress(APC) for the Oyo South Senatorial District, Akogun Sharafadeen Alli on Sunday led political children of the former governor to donate for orphanage homes in Ibadan, the state capital.
Sharadeen Alli who was flanked by his bossom friend, Alhaji Adebisi Alli alongside other political leaders visited the secretariat of the Federation of Muslim Women Associations in Nigeria (FOMWAN) in Akobo and Ibadan home for motherless babies, UCH, Ibadan areas of Ibadan.
Speaking at the FOMWAN secretariat, Alli said he was at the orphanage home to celebrate the birthday of his father with the children. He presented various edible gifts and cash to them.
He said: "we children of the former governor, Chief Rashidi Ladoja are here to celebrate his birthday with the children as usual. We are here to give a token gift as part of his birthday celebration. I will like my elder brother, Bimbo Adepoju to present the gift of cash donation.
Reacting to the donation, a former Amirah of FOMWAN in the state, Alhaja Surua Oyero said the donation for the motherless home is becoming an annual ritual.
" I want to thank you and our father, Chief Ladoja for his annual generous donation to our children. We are always happy that people like Chief Ladoja always remember us. If we are here and nobody think of us, we wouldn't have been able to care for these children. We want to wish him many more years of good health and more prosperity," she said.
Reacting to the generous donation at the Ibadan home for motherless babies, UCH, the chairman board of management, Mrs Funso Adegbola said mothers of the children in her care died the day they gave birth to the hapless kids in their home.
Adegbola who appreciated the former governor for donating to the homes annually said the children in the orphanage home only stayed in the home for two years before they are handed over to their fathers for continuous care, adding that female family members are not expected to visit the home.