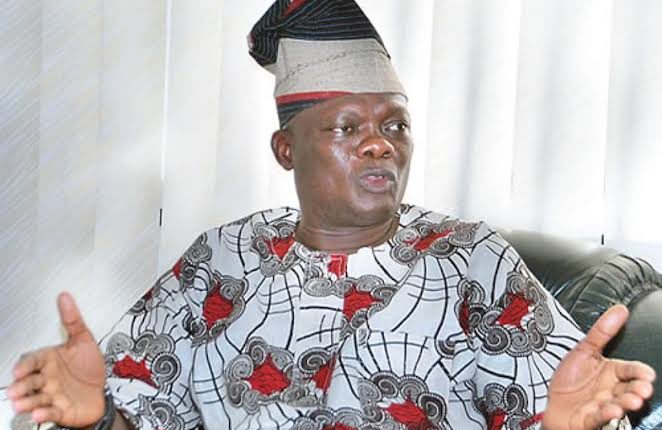 Nigeria at 60: Folarin Greets Nigerians, Calls for Leaders' Renewed Dedication to Peace, Developments The Chairman Senate Committee on Local Content and Lawmaker representing Oyo Central Senatorial District, Oloye Teslim Folarin has extended greetings and good wishes to the people of Oyo Central, Oyo State and Nigeria on the occasion of the country's 60th independence day.
Senator Folarin, in an independence message released by his Special Adviser on Media and Publicity – Com. YSO Olaniyi, said countless patrioric Nigerians, dead or alive, offered ultimate sacrifices to liberate Nigeria from the colonial masters.
The three-term federal lawmaker enjoined Nigerians to continue to pray and support President Muhammadu Buhari as his government prioritises security of lives and property, economic development, creation of employment opportunities and better life for all.
Part of the statement reads:"60th Independence Day is not only to celebrate our togetherness but also to commemorate our forefathers' struggles and sacrifices, while offering our sincere tributes and gratitude for their contributions. Moreover, this day inspires us to renew our resolve to preserve and protect the independence and integrity of our country. On this day, we must reflect on the task, which we have undertaken for the evolution of a poverty free, disease free, prosperous and illiteracy free Nigeria".
"Though some wrong decisions were taken after independence, Nigeria still remain together. Religions, tribes and tongues may differ, in brotherhood we stand"
"60 years of our togetherness call for celebration but we the leaders must strive to transform the narrative once again. We must ensure meaningful developments, peace, progress and social harmony"
"We have the obligations to put in place a just and transparent system of governance, which will be dedicated to empowering the marginalized and weaker sections of the country"
"We must renew our dedication and  commitment to accelerate the developments in all parts of the country".
"COVID -19 pandemic has affected our lives terribly. We have also lost some precious lives. Our sincerest condolences are with their families! To stop the spread of this pandemic, the efforts of the governments at all levels have been commendable in offering people testing and treatment facilities. Our doctors, paramedical staff and nurses have worked selflessly and with exemplary dedication. I want to convey to them that we are immensely proud of them. We will never forget their selfless service. I request all the people to adopt necessary precautions to safeguard themselves from the COVID Pandemic".
"As we peacefully celebrate the 60th Independence, I reiterate my commitment to qualitative representation and excellent service delivery to the people of Oyo Central Senatorial District, Oyo State and Nigeria large. Congratulations to all of us!" the statement concluded.