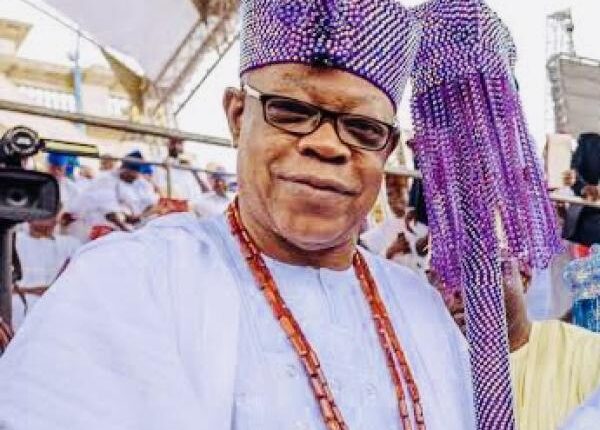 Olubadan Seeks Collective Participation In Security Summit Holding In Ibadan
as Sen. Kola Balogun becomes promoter for Olubadan security summit The Olubadan of Ibadan, Oba Mohood Olalekan Balogun has called on all politicians, businessmen and women, corporate organizations, government agencies, religious leaders and individuals to rally support for Olubadan Security Summit to end prevailing terrorism, kidnapping and insurgency in Nigeria.
Speaking on behalf of the monarch, Senator Kola Balogun who is representing Oyo South Senetorial District at the upper chamber of the national assembly said Olubadan's decision to take the lead in the war against insecurity is borne out of the fact that Ibadan is known for being a city of the warriors and must rise to defend its territory, environs, state and the entire Southwest region.
Meanwhile, Senator Balogun who has also been appointed as a Promoter of the Summit also expressed his joy over the appointment and promised to play a leading role towards making the proposed Olubadan Security Summit a success.
Receiving members of the main organising committee for the summit at his Ikolaba residence in Ibadan, Senator Balogun described the project as one that will bring glory to Olubadan stool and promote Oyo State as one of the states championing war against terrorism and insecurity in Nigeria.
He said, "this is a great concept and I will rally it unimaginable and unquantifiable support to ensure we record great success and write the name of Oyo State in the threshold of history as a state leading war against banditry, terrorism and general insecurity in Nigeria.
"I'm convinced that this project will equally bring glory to Olubadan stool and reaffirm the stool as a rallying point on security matters for traditional institutions in the Southwest region as it was in the past, dated back to centuries ago.
"I'm happy this is coming up during the reign of His Imperial Majesty, Oba Mohood Lekan Balogun and I can assure you that all the personalities, corporate organisations and politicians in Oyo State, Southwest region and Nigeria in general, irrespective of their religious, political affiliation, ethnics coloration and ideologies will give their best to this all important project.
Responding to Senator Balogun's address, the chairman of the main organising committee, Comrade Ademola Babalola, who also is the Chairman of the Nigeria Union of Journalists, Oyo State Council, expressed gratitude to the distinguished Senator whom he described as an outstanding achiever, who has contributed wonderfully to the lives of quite a number of people in Oyo State.
"Our distinguished Senator, we thank you for accepting to lead this cause, we are not surprised because we already aware of what you stand for. As a Senator, you have done creditably well, you have given dividends of democracy to the people of Oyo South Senetorial District and Oyo state by extension. Your support during Covid 19 to the good people of Oyo State, including our Constituency, you brought several opportunities from federal government, you awarded scholarships to several students, all these and many more are still fresh in our memories," Comrade Babalola hailed.
Meanwhile, Senator Balogun briefly discussed issues surrounding his failed bid to secure Oyo South Senetorial ticket for his second term.
According to Senator Balogun, "I was denied ticket to contest for the second term by those who for political reasons conspired against me. I wasn't defeated at the primary, neither am I accused of nonperformance but for reasons best known to those who played various roles in the saga. However, I saw everything that happened as the will of Almighty God, and accepted that God has better plans for me politically in the future.