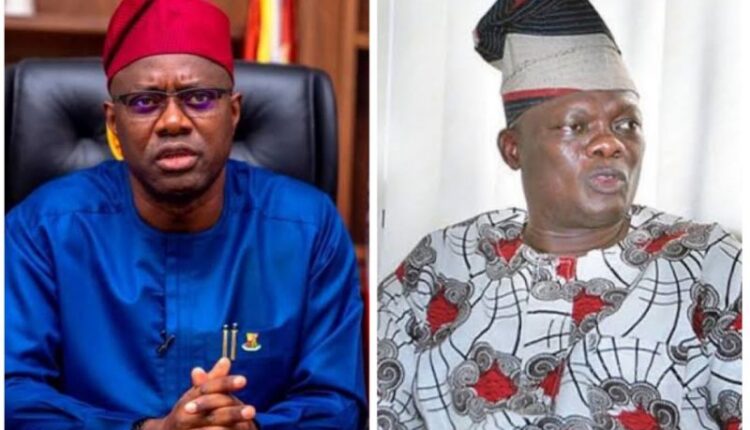 Oyo Rated 33 In WAEC, 50 Schools Delisted By WAEC Under Your Watch, Folarin Blasts Makinde The 2023 governorship candidate of the All Progressives Congress (APC) in Oyo State, Senator Teslim Folarin has blamed Governor Seyi Makinde of People's Democratic Party (PDP) for the decline in the standard of education in the state.
Folarin stated this at the official flag-off of the APC campaign for the 2023 elections, held at Oba Adeyemi III Arcade in Oyo town, on Monday.
He lamented that under Makinde's administration, Oyo State education is in comatose. Hence, the need for holistic intervention of responsible and responsive government.
"Under Governor Seyi Makinde-led PDP administration, Oyo State ranked 33rd in external examinations and recently, 50 secondary schools were blacklisted and delisted by WAEC. The sad developments are unprecedented in the history of Oyo State.
"The most worrisome aspect of PDP government in Oyo State is the continuous leadership failure characterised by maladministration at all levels as a result of incompetence, state-sponsored insecurity, crippling of local government administration, poor state of infrastructure, consultancy policy in tertiary institutions, growing debt profile, dereliction of duties and among others," he added.
Folarin also warned Gov. Makinde against taking hasty decisions on the teachers and principals of the affected 50 schools sanctioned by West African Examination Council (WAEC) for offence bordering on examination malpractices.
He submitted that it was neither the fault of the teachers nor the principals of the affected schools, rather Makinde should examine his education policy.
"I am poised to invest in policies that will drive economic development, provide a sea of opportunities for the teeming populace, improve healthcare, agriculture, education and infrastructure, so that our state can be an investment hub and a preferred destination for industrialists. All these will be clothed in human face by our administration, which will be people-driven.
"My aim is to form a pact with the good people of Oyo State through an invaluable blueprint that is anchored on a mission to move Oyo State Forward for Growth and Development.
"Our government shall be established on a mission that will prioritize functional and qualitative education for all school-age children, productive mechanized agriculture, efficient and affordable healthcare delivery for all, irrespective of age, gender and status; massive industrialization, strongly supported by expansive agricultural value chain; employment generation with emphasis on entrepreneurship and innovation; urban renewal and rural infrastructural development.
"Our government shall secure Oyo State, where every lawful citizen shall have no reason to fear or fret. According to Rosalynn Carter 'A leader takes people where they want to go. A great leader takes people where they don't necessarily want to go but ought to be" he stressed.
The three-term senator while speaking lauded the efforts of Senator Femi Lanlehin Reconciliatory Committee, submitting that the presence of notable chieftains of the party at the event is a testimony that their efforts have begun to yield dividend.
He, therefore, assured members of the party of an all inclusive government, adding that this is the only way to salvage the present situation.
Folarin concluded his speech by vowing to work with critical stakeholders in the state in order to deliver 85% of Oyo votes for Tinubu-Shettima on February 25, 2023
The deputy governorship candidate, Dr. Femi Okunlola; Oyo North Senatorial Candidate, Senator Abdulfatai Buhari; Oyo South Senatorial candidate, Barrister Sharafadeen Alli; Oyo Central Senatorial candidate, Dr. Yunus Akintunde; all house of representatives and house of Assembly candidates were officially presented with flags of the party, APC.
The State Chairman of the party, Hon.Isaac Omodewu, while presenting the party's flags to the respective candidates urged them to intensify their efforts at ensuring the success of the party at all levels in the 2023 general elections.
Omodewu who described the pairing of Chief Bola Tinubu and Shettima as the right choice for the country especially during this trying period, stressed the need for members to make it a reality.
He added that candidates of the party at all levels including its governorship candidate, Senator Folarin has political records of excellent performance.
The party chairman stated that it is high time that people liberated the state from the PDP shackles of poverty, and the only way to do this is through their votes.
"I urge our people to go and collect their Permanent Voter Cards. This is the only legal weapon to eject nonperforming governor and his co-travelers from the office," he said.
Folarin, Omodewu, Director-General of Oyo APC Campaign Council, Dr. Isiaka Kolawole; Deputy Director-General, Asiwaju Yemi Aderibigbe and chieftains received decampees from the New Nigeria People's Party (NNPP).
Former Minister of State for Defence, Senator Musiliu Obanikoro; former Minister of Police, Alhaji Jelili Adesiyan and other political heavyweights were in attendance to pay solidarity support for Senator Folarin.
Notable APC chieftains present at the flag-off were His Excellency Engr. AbdulRauf Olaniyan; members of Oyo APC Elders Advisory Council led by Barrister Iyiola Oladokun; Oyo APC executives led by Hon. Isaac Omodewu-led Oyo APC, Oyo APC Reconciliation Committee led by Senator Femi Lanlehin-led, all 2023 Oyo APC Presidential and Governorship Campaign Council led by Dr. Isiaka Kolawole; Senator Brimo Yusuf, Engr. Dayo Lawal, former Minister Adebayo Shittu, Alhaji Fatai Ibikunle, other critical stakeholders and teeming members of the progressive party.