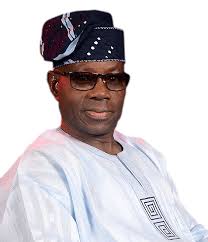 We'll Soon Secure Approval To Upgrade Ibadan Airport, Says Kola Balogun Senator representing Oyo South Senatorial District, Senator Kola Balogun has assured the people of Oyo state that the state government in conjunction with his office would soon secure approval from the federal government to upgrade the Ibadan airport to international standard.
Balogun who stated this during a radio programme anchored by Isaac Brown on a private radio station in Ibadan on Saturday faulted the opposition parties for condemning N100billion loan proposed by the state government to carry out some infrastructures in the state.
He said; "Where were opposition party members in Oyo state when Kogi state government is taking loan? Even the federal government's 2020 budget is being funded by loan. That statement by opposition condemning the loan proposed by the Oyo state government to carry out some infrastructures in the state is just political talking point. We ought to have gone beyond politics of bitterness.
"We are working to upgrade our airport international standard. I am trying in my own capacity and the governor is also trying in his own capacity to ensure the airport is upgraded to international standard. The people of Oyo state are watching and listening. They will pay the opposition back on the day of reckoning. We are about to get the federal government's approval to upgrade the Oyo state airport.
"Ability of the Oyo state government to pay back the loans is there if the leakages are blocked.
"I was with governor Makinde during the covid-19 pandemic when his wife was caught up in United State of America by the lockdown. One of the governors called him and told to send a private jet to pick her but he said he could not spend public and his private resources to do such a thing."