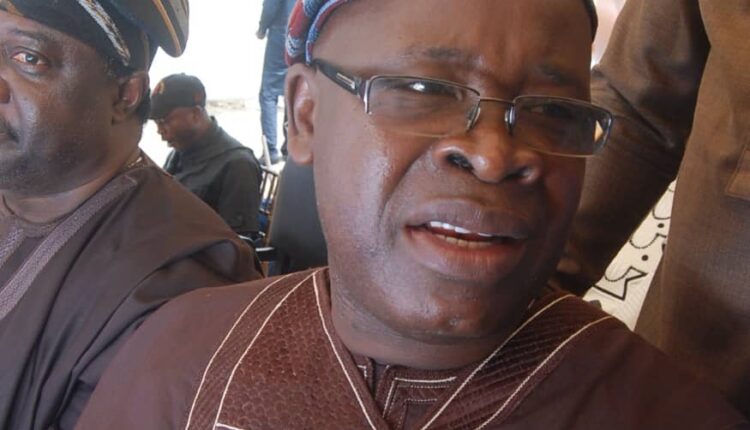 What Does Dotun Sanusi Want in Tinubu, Makinde's Governments?
_ADEMOLA BABALOLA writes that Ibadan-born billionaire businessman, Engr. Dotun Sanusi may soon become a colossus in leadership recruitment process for Oyo State in particular and Nigeria as a nation as recent events around the hotelier and country's oil and gas key player suggests that he may be on the verge of building a political empire for future leaders…_ Dotun Sanusi, a frontline philanthropist and an advocate for an egalitarian society, believes in providing basic human needs to all individuals.
He is creating a society where their people have access to basic human needs, such as affordable food and housing, quality education, sound health care services and above all, where all the people are considered equal, regardless of gender, race, religion or age..
He is a prominent figure in Ibadan and has played an active role in the promotion and elevation of Ibadan High Chiefs. He believes that the traditional system in his country should be enhanced to ensure equal rights and privileges for all.
A Yorubaman of Ibadan bloc, Sanusi is a great asset to the city of Ibadan. He is the Otun Apesinola of Ibadanland and indeed a ranking Mogaji in the Olubadan chieftaincy system.
As an irredentist Ibadanman, Sanusi was believed to have played active roles in the recently promotion cum elevation of Ibadan High Chiefs to beaded crown wearing Obas.
He believes the status of the traditional system in his country home should be enhanced for them to be accorded their due rights and privileges in the comity of other traditional institutions nationwide.
Not only did he deploy resources to actualize the dream of the majority of the high chiefs to also wear crowns, he also worked closely with his friend and brother, Governor Seyi Makinde, and the State House of Assembly in ensuring timely passage of the amendment to the traditional chieftaincy laws of Oyo State and its eventual approval by the Governor.
Sanusi's belief in a society where people relatively have equal access to income and wealth informed his decision to locate a multi-billion hospitality haven (Ilaji Hotels and Sports Resort) to a remote location of Ibadan in Akanran, Ona Ara Local Government Area of Oyo State. Akanran is a settlement that was long considered to be 'forsaken and confined to dustbin of history' because of the old Agbekoya war, otherwise known as Farmer's revolt against the Federal Government new tax regime in the late 60s.
According to the Wikipedia account, "The Agbekoya Parapo Revolt of 1968–1969, popularly known as Agbekoya or the Egbe Agbekoya Revolt, was a peasant revolt in Nigeria's former Western region, home to the majority of the country's Yoruba population.
"The war was fought and won against the Federal government of Nigeria by the Ibadan people of present Oyo State, on behalf of all Yorubaland.
"It was spearheaded by two villages in Ibadan: Akanran and Akufo,. The war was the most well known peasant-driven political revolt in western Nigerian history, and continues to be referenced by grassroots organizations as a successful example of collective action against unpopular government policies.
"The revolt was predominantly aimed at agitating for a reduction in taxes, though some believed there were also political catalysts."
Grapevine has it that after this war, unconfirmed government sources said "Akanran entered the bad book of the government and was marked out as a settlement where government's presence must not be felt" because of their people's effrontery to use local powers to defeat government's soldiers and the police.
In an encounter with the journalists sometimes last year, Sanusi remarked on why he sited his business empire in Akanran and remarked thus: "Whether people believe me or not, I know I have passion for humanity. I am sincere in my desire to give back to the society.
"You may wish to ask me why I decided to establish this Ilaji Hotel and Resort here? This is my answer: I was looking for a community with history. You will all agree with me that Akanran is an historical part of Ibadanland.
"After deciding on Akanran, located within Ona Ara Local Government Area of Oyo State, I went ahead to buy a very large parcel of land, which used to accommodate about 28 villages," for the inhabitants of the area to feel and enjoy what those in urban centres are enjoying daily.
He said the urge to give back to the society led to the establishment of ICAST, Ilaji Soccer Academy "and this academy serves as a fertile ground for talented children who came from both humble and well-to-do backgrounds. The idea behind Ilaji Soccer Academy is to give these talented players the platforms to showcase their skills in the advanced footballing nations of the world.
"We have, through Ilaji Hotels and Sports Resort since partnered with SWIEQI Football Club in Malta and Malaga CF, a football club in the Spanish La-Liga.We invested in the outfits, that is why we have a smooth working relationship with them.
"I will say it here that for doing all these, politics is not on my mind. I do not have any plan to become a partisan politician. This is not in my agenda.
" I am a Christian with a Muslim background. But I am a realist. We are too much into sentiments. In addition, if we were not selfish, Nigeria would have been a better place for us all to live. Our leaders are not sincere, they are biased.
"We all need to mend our ways. We are too much into religion, tribalism and we are not honest people. In addition, our constitution is not working for us. It does not give room for fairness and accountability.
"Nobody is talking about cocoa. Was our famous Cocoa House not built from proceeds from cocoa business by the then Western State government?
"I am sure we all know that our petroleum resources are fast decreasing. And there is urgent need to diversify.
"As for me and my household, we do not have any option than to remain focused and hardworking and we also believe God is with us."
For a man who detests partisan politics, his active involvement in the recently concluded year 2023 campaigns and eventual electoral victories of President Bola Tinubu and Governor Seyi Makinde's re-election caught many by surprise.
Speaking to this writer on why he was neck-deep in both leaders' campaigns, Dotun Sanusi said he was confident that they (Asiwaju Ahmed Tinubu and Engr Seyi Makinde) would not disappoint Nigerians and people of Oyo State in particular.
Despite his aversion to partisan politics, Sanusi actively campaigned for President Bola Tinubu and Governor Seyi Makinde during the 2023 elections. He believes that both leaders have the competence and intellectual capacity needed to advance the cause of Nigeria's economic prosperity. Sanusi's support for these leaders demonstrates his commitment to good governance and the development of the country.
Looking ahead, Sanusi is building a political empire that could have a significant influence on future leadership positions in the state and country.
However, his primary concern is that these leaders continue to lead well and prioritize good governance. In his view, this is the fundamental aspect of democracy that will make Nigeria proud.
Sanusi's actions and beliefs reflect his dedication to creating a more equal and prosperous society for all individuals, irrespective of their gender, race, religion, or age.
He believes that the traditional system in his country should be enhanced to ensure equal rights and privileges for all.
According to him, "I mobilized people for Asiwaju Bola Ahmed Tinubu to become president of Nigeria, because he was the most competent among all the presidential candidates."
He recalled how the nation's economy graduated into a borrowed economy under successive administrations as a result of global impacts of pandemic and war.
"Now that we are operating under borrowed economy, we need somebody that has intellectual capacity. We need somebody that can see opportunities where others don't see.
"So we need somebody that can spot opportunity where there is no opportunity and advance our cause to save the future of our children, " he said.
Sanusi said that the vision to advance the cause of economic prosperity and save the future of the younger generation required them to carry these people along from the grassroots.
"We want good governance and you have to carry them all along from the beginning. The one that has intellectual capacity to advance the cause of Nigeria and take it into the next level, to be giant in terms of economy in the whole of Africa, is Asiwaju Bola Tinubu," Sanusi had remarked during the campaign.
On Makinde, Sanusi, who was elated at the success of the governor at the poll, assured the people of the state that the governor would do better in his second term to lift the state's economy further and improve the lives of the citizens.
'As you all know, one good term deserves another. His Excellency Governor Seyi Makinde has done so well since he took over the reign of governance about 46 months ago.
'He has shown capacity, character, and courage in leadership to merit a second term in office. I have come to once again felicitate one of us, Engr. Seyi Makinde to receive the Certificate of Return from the INEC.
'I am congratulating the Governor and all his associates, including family members, on this momentous and joyous occasion.
'Our people have spoken with their votes by re-electing His Excellency for another term of four years. It behoves on all and sundry to support and cooperate with the Governor to succeed in governing our dear state.
'Like he said in his remarks on this occasion, he would hit the ground running and deliver on all his campaign promises to our people,' Sanusi added.
Against these background and swelling supports for the President and the Governor, Sanusi has one request: "They have started well and should continue to lead well and make us proud always. Good governance is the hallmark of democracy and our leaders should be guided, accordingly.
Beyond his postulation, political observers believed that Dotun Sanusi is building political empire that would be a determinant group for future state and country's leaderships.
…_ADEMOLA BABALOLA, the Oyo State Chairman, Nigeria Union of Journalists sent this piece from Ibadan_