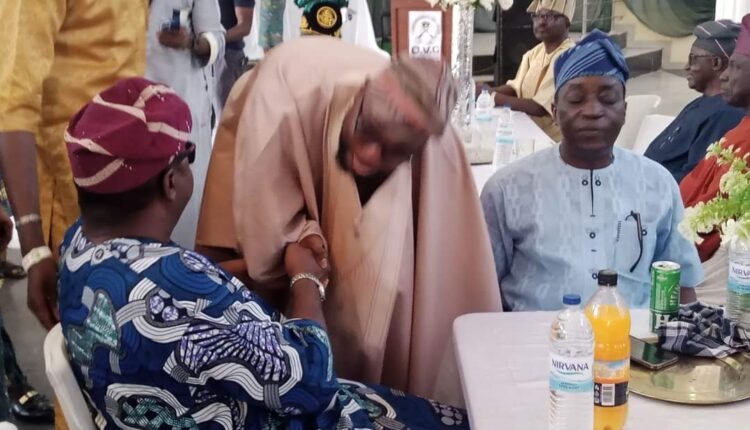 I Enjoyed Good Relationship With Akala, I Belong To 'Category Of Those That Gave' – Open Salawu Engineer Muftau Open Salawu FNSE, a chieftain of the People's Democratic Party, PDP has said that he stated a verifiable fact about Senator Teslim Folarin, Gubernatorial candidate of the All Progressives Congress, APC and Late Former Governor Adebayo Alao Akala adding that he doesn't have any problem with Folarin.
Open Salawu in press statement personally signed and made available to newsmen, on Wednesday, said truly he left the APC out of frustration adding that he left the party the same way Late Former Governor Adebayo Alao Akala left the party in 2018.
The Babalaje of Ogbomoso land added that as a successful Engineer, his background wouldn't allow him to tolerate injustice and entertain mediocre in a sensitive issue like the development of his environs.
He said he enjoyed a good working relationship with Late Governor Alao Akala adding that he belongs to the category of people that were giving to Akala not those collecting from him or those afraid of him.
He added that he has found Governor Seyi Makinde to have a good character, competent and charisma to move Oyo state forward among the gubernatorial candidates.
The statement read: "Yes, I left APC out of frustration like many notable politicians left across the country and just the way Akala also left in 2018 to joined ADP.
"Some of us are professional in politics and not the politician that look for crumbs to survive. I have practice Engineering successfully for over two decades and attained Fellow Nigerian Society of Engineers. So my background would not allow me to entertain mediocre in a sensitive issue like the developments of my environs.
"Before 2007 I have been very comfortable as a business man and I don't have course to use Akala's name for any thing rather than good relationships that exist between me and late Governor Akala just like many other senior citizens in Ogbomoso.
"Recently the Broadcasting Corporation of Oyo state (BCOS) and Ogbomoso Valiant Club (OVC) gave posthumous award to Late Governor Akala, incidentally the same organisation awarded me with distinguished service in the same day based on my name and service to humanity.
"There were 3 categories of people around Late Governor Akala. People that were afraid of him, people that were collecting from him and people that gave him. I belong to the third category. I enjoy close relationship with him and he told me about the candidates he want us to support for the governorship before he passed on.
"You may recall, I was a  subcommittee chairman for the late Governor's burial arrangement and one of the major contributors to the funeral.
"I don't have any problem with Senator Teslim, I just stated verifiable fact and to prevent dancing on the grave.
Most importantly beyond what the late said, among the major contenders for governorship in Oyo state, I have found Governor Seyi Makinde to have character, competent and charisma to move our dear state forward."