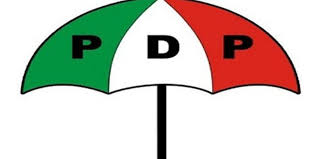 You Didn't Follow Due Process In Your Appointment, Aggrieved PDP Members Tell Ogungbenro Aggrieved members of the Peoples Democratic Party (PDP) in Oyo State, have expressed their dissatisfaction over the appointment of Mr Dayo Adegbenro, as the caretaker committee chairman of the party in the South-West region of the country.
The aggrieved members while speaking through their spokesperson, Babatunde Nafiu, during a press briefing in Ibadan, on Friday, said the appointment of Adegbenro, whose recommendation was made by the governor of the state, Mr Seyi Makinde did not augur well with them.
They said: "Aside the fact that Adegbenro is a serving full member of the Oyo State Universal Basic Education Board (SUBEB), of which he ought to have resigned his appointment before taking the new one at the party level, his emergence was also not done with due diligence.
 "Does it mean that there are no other major stakeholers in Oyo PDP to determine who gets what, that it is only the governor and the chairman of the State Advisory Council, Senator Hosea Agboola, who call the shots in the party?.
"We believe that as party members, when the need to recommend somebody to represent us at such a level of our party, it ought to have been done with due consultation of major stakeholders of the party. We do not understand the choice of Adegbenro, who is a brother to the Chairman, Oyo State Advisory Council when we have other qualified members who can occupy such position within the party.
"It is also pertinent to state here that when the former Chairman of PDP in Oyo West Local Government, Akeem Olukitibi, was given appointment as caretaker chairman in the local government by the governor, he was asked to resign from his post as party chairman, of which he did without hesitation. So we wonder why the case of Adegbenro is different."
The PDP members also said that:"When Senator Hosea Agboola was to be appointed as caretaker chairman of Ekiti PDP, none of the major stakeholders of the party in Oyo State was carried along. Does it mean that all other people who supported the quest of governor Makinde's emergence as governor do not deserve to get rewarded for their efforts as well?.
"It is therefore, on this note that we call on the national leadership of our party to take a critical look at happenings within the party in Oyo State and do the needful in order to save the party from further crank."