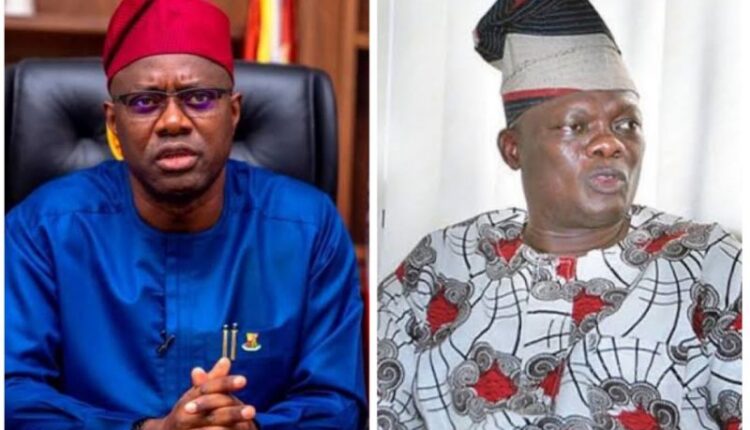 You Got To Power By Default, Has No Blueprint, APC Tackles Makinde 
...alleges Makinde neglected existing template to deliver The All Progressives Congress in Oyo state has stated that Governor Seyi Makinde should acknowledge the opposition party and its gubernatorial candidate for the 2023 election, Senator Teslim Folarin, as reliable sources of guidance and support as his administration was struggling to wind up on a significant note in few months.
Oyo APC's message to Gov. Makinde came against the backdrop of claims by the broom party that the PDP administration in the state was showing some signs of responsibility and responsiveness on account of recent media engagement of Sen. Folarin and other members of the party wherein constructive criticisms and critical appraisal have been done to expose the ineptitude and poor performance of the current PDP government.
In a statement issued at the weekend and made available to journalists in Ibadan by its Publicity Secretary, Olawale Sadare, Oyo APC regretted that it had abdicated its responsibility of chief watchdog and principal constructive critic of the ruling party for too long and allowed Gov. Makinde to cause incalculable damage to the reputation of the state as the Pacesetters.
"We own up to the error of watching helplessly while Gov. Makinde had started on a wrong note on May 29, 2019 when he indicated, in his inaugural speech, that he had no blueprint or action plan for the state. Our assumption was that the governor who got to power by default would do well by making use of the existing template of Alh. Lam Adesina, Sen. Rashidi Ladoja, Chief Adebayo Alao-Akala and Sen  Abiola Ajimobi even when he did not have a better document to work with as expected.
"As we speak, Gov. Makinde and his co-travelers have realized that there is nothing on ground to measure up with the expectations of the good people of the state in the last 42 months. The reality has dawned on them that window dressing, propaganda and media noise cannot work in a state where some people had showcased visible infrastructure, quantitative and qualitative education and healthcare, influx of direct foreign investment, enviable security architecture among others as achievements while in government.
"Be that as it may, Oyo APC and its 2023 gubernatorial candidate have taken to the mass media to undertake fair critique of the Makinde administration in the past few weeks and this has yielded positive results as Gov. Makinde now responds and shows concerns although not as desired by the residents. The Oyo APC team has been helping Makinde administration to do x-ray his poor record of performance fair judgement which cannot be faulted or ignored.
"This was evident in the open admittance of failure in the area of security, education, waste management, commerce (Agbowo Shopping Complex), local government administration, Agriculture among others as done by the governor himself on a live radio interview few weeks ago. We have also noticed how some repair works are being carried out on some roads in the state capital even as concerns are being raised on the quality of such intervention efforts. It is also on record that Gov. Makinde started equipping Primary Health Centres after following Sen. Folarin's criticism. But we still insist that procurement of power generators and painting of structures are not enough to standardise our health facilities.
"On this note, we urge the governor to further swallow his pride and listen more to the voice of reasoning as represented by the progressive characters in Oyo APC as well as other relevant stakeholders who are no longer ready to keep silent in the face of bad governance, mismanagement of scarce resources and cosmetic governance. The fact remains that a lot could still be done in the last six months of the present administration before the APC takes over on May 29, 2023". Sadare concluded.