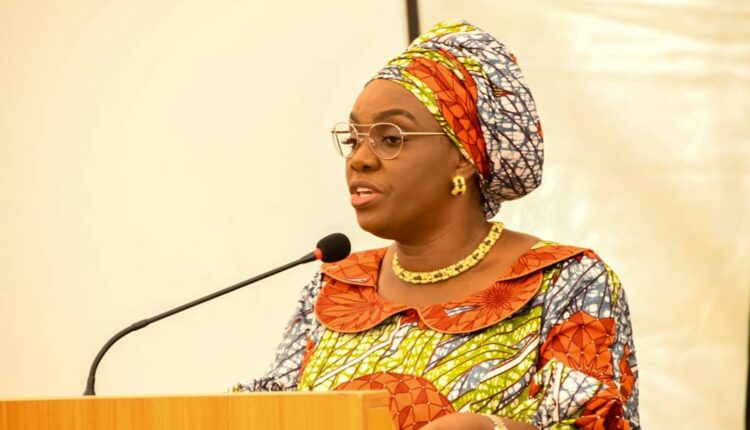 Makinde Advises Parents To Kick Against FGM As part of Activities marking this year international day, Zero Tolerance for Female Genital Mutilations, the wife of the Oyo State Governor, Mrs olufunke Tamunomini Makinde has advised mothers to avoid FGM for their daughters.
The annual Zero Tolerance for Female Genital Mutilations is usually celebrates every February 6.
Mrs Makinde who gave the advice on Wednesday at this year International day for Zero Tolerance to Genital Mutilations held at the presidential lodge Government house Agodi Ibadan, tagged "No Time for Global Inaction: Unite, Fund, and Act to End Female Genital Mutilation" called on all stakeholders across the state to take a stand and say No to the Vicious act.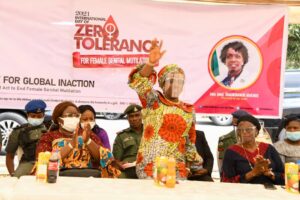 Shehe also urged them to raise their voices against the violent practice and support the well being of all women.
According to her, the painful process of female genital Mutilation is recognized Internationally as violation of human rights health and the integrity of girls and women as well as obstacle to gender inequality.
She stressed that the act has caused physical, emotional mental torture to girls children along with immediate and long term complications.
She pleaded with organizations, religious, governmental, Non governmental at Customary level and Primary level to join hands and support this course for zero tolerance against female genital Mutilations with all the necessary resources.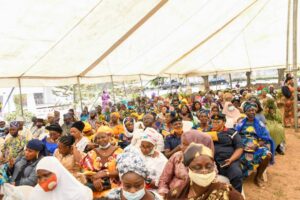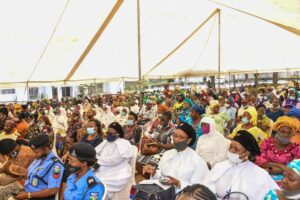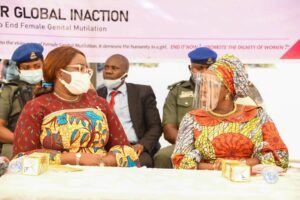 Mrs Olufunke finally appreciated the support of His Excellency Engineer oluwaseyi Makinde on his part against Female Genitals Mutilations and the resolve to completely eradicate the act in our state through concerted effort of enlightenment and advocacy.
In her own remarks a primary health care worker in the state, Mrs Bilikis oluwakemi olawoyin analysed that the practice is full of so many complications which can arise during the procedure, shortly after the procedure or even later in life. considering the privileged of FGM in Oyo state we rely on National survey and thats National demographic health survey which is usually conducted every five years, the last one which was carried out in 2018 review that Oyo state was set to have 31.1% of female genital Mutilations among the women of 15 to 39 years of age,
According to her, "FGM as its been called is a culture people strongly believe in and they must be well informed of the consequences for them to stop. another challenge we are having is the complications of FGM that they don't really relate or link it with their health challenges. for us to educate them, and for them to believe is a gradual process. But the oyo state government under the administration of Eng Oluwaseyi Makinde is collaborating with development partners and other stakeholders in the state and we are reaching out to the communities. In 2015 there was a survey conducted at the beginning of "End FGM program" and that was when we realized that Kajola local government has the highest rate with FGM, we started our campaign from those highly rated FGM area and as I speak now some of the communities in the local government area have publicly declared abandonment of FGM and within those communities we have also instituted some local surveilance team who monitor the activities, but that doesn't mean they're not still practicing it but is being carried out secretly, and the rate of practising has drastically changed. Meaning Oyo state is working with other teams and stakeholders to eradicate FGM in the state"".
One of the victim of circumcision said the experience she went through after the process was horrible and undefinable also when it was time for her to have her own children she underwent a painful story entirely.
In attendance are the wife of the deputy Governnor wife Prof Mrs, Hamdalat Olaniyan, Senior special Assistance to the Governnor, Mrs Olubamiwo Adeosun, Head of Service, Mrs Ololade Agboola, Commissioner for women Affairs, Alhaja Joke Sanni, Commissioner for Special Duties, Mrs Oluwafunmilayo Orisadeyi, Commissioner for Health, Special Adviser on Diaspora, Mrs Bolanle Sarumi, Iyaloja of Oyo state, Representative from Traditional rulers, Circumciser, Primary health care officers, Religious group and Social workers.