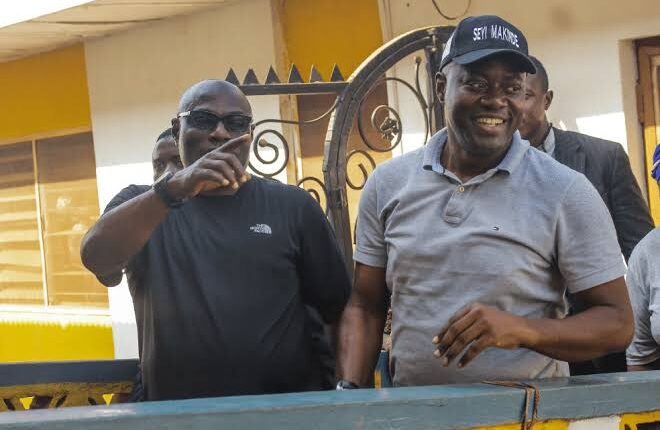 Olopoeniyan, Femi Babalola, Others Are Political Chickens, Lack Maturity – Bayo Lawal
...says Ladoja didn't compensate him for 3years without eyebrow The Director General of Governor Seyi Makinde in 2019 general elections and the Commissioner for Local Government and Chieftaincy Affairs, Alhaji Bayo Lawal has described a chieftain of the Peoples Democratic Party (PDP), Alhaji Adebisi Olopoeniyan as political Chicken, and Immature for complaining that he has been sidelined.
He also said a chieftain of the party, Engr. Femi Babalola and other people who are complaining about his boss are political Chickens, saying; "many of them have received their pay before the election, hence they have no reason to complain."
The PDP chieftain said he contributed greatly to emergence of former governor Rasidi Ladoja in 2003 but he didn't compensate him for three years of his administration and he never raise eyebrow.
Bayo Lawal who spoke on a popular radio station in Ibadan on Saturday said even if Jesus becomes president of Nigeria, and Muhammed emerges as the governor of Oyo state, some people would still complain.
He noted that Olopoeniyan who has been hosting the flagbearer of APC in the last general elections, Chief Bayo Adelabu and the Senator representing Oyo central, Oloye Teslim Folarin in his house has no stand to complain that he was not compensated.
Lawal said the PDP chaiftain cannot raise his urgly head with himself and the governor in Ibadan North East local government where they belong.
He advised Olopoeniyan to stop making public outcry over none recognition by the government, saying; "he should channel his grivances to the governor, rather than making allegations."
The Commisioner asked if Olopoeniyan was the only one who worked for governor Seyi Makinde in 2019, adding that he needs to wait for report of reconcilition committee of the party before crying foul.
Lawal said there are 8 milliom people who are expecting good governance in Oyo state, therefore the chieftain of the party needs to be calm.
"There are ways we pay people in politics. If we construct a road linking your road, it is part of the benefits of democracy, he said."
Speaking on the coalition that brought the governor to power, Lawal said Lanlehin and Alli's grievances are normal.
He said; "Lanlehin wanted us to handover the whole benefit of ADC to him. It is not news that Lanlehin went to APC. That is his style. He has been going round political parties."
He commended Sarafadeen Alli for his political maturity but attacked him for presenting ZLP favorite for commissionership without considering local government clashes.
He said; "Sarafadeen Alli is a matured politician. You cannot see him going round making noise. He is the one to decide his political future. But he was full of himself and said we cannot dictate for him when we asked him to bring slot for Commisioner."