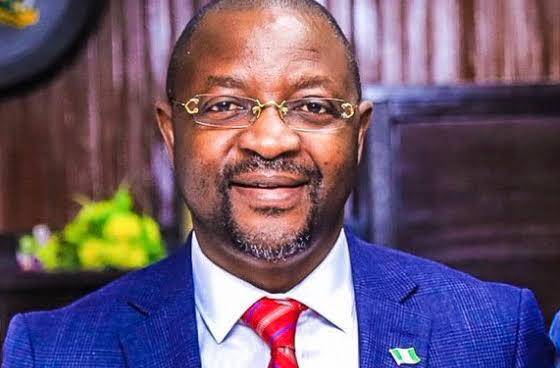 Your Alliance With Makinde'll Later Hunt You, Goup Knocks Sport Minister, Sunday Dare A political group, Ojo-Oola Oyo on Tuesday said the Minister of Sports and Youth Development, Sunday Dare would later regret his anti-party activities and recent secret endorsement of the governor of Oyo state, Seyi Makinde for second term.
The group said it is no more a news that Sunday Dare is a black sheep in Oyo APC with the way he hobnobs with PDP leaders in the state.
Our correspondent learnt that Sunday Dare recently met with the NYSC management and Corps Liaison Officers where he gave them directive to support Seyi Makinde for his second term bid.
According to a source, being a Minister in charge of NYSC, Sunday Dare had assured the management of the Corps in Oyo state of his maximum Support and corporation.
Reacting to the allegations, Ojo-Oola Oyo said the national secretariat of the APC must investigate and punish the Minister for his involvement in anti-party activities, especially with the governor of Oyo state, Seyi Makinde.
Speaking through it's coordinator, Pastor James Babalola the group said the Minister is a disgrace to the party and ingrate to the presidential candidate of the APC, Asiwaju Bola Hammed Tinubu who cut his political teeth and made him.
The statement reads in part; "Ojo-Oola Oyo is political group in Oyo Progressives fold. We are concerned about the future of our dear state, Oyo and prospects for the state. We have been following recent development in our political space with keen interest in what happens after May 29, 2023.
"Our team recently caught the Minister of Youths and Sports Development, Sunday Dare forming alliance with the govenor of Oyo state, Seyi Makinde. We know the unholy relationship will hunt him in future. He recently met with management of NYSC and Corps Liaison Officers (CLOs) where he sought for support for Mr. Makinde. We are hereby calling the attention of our presidential candidate, Asiwaju Bola Hammed Tinubu and the national body of our party to investigate and bring him to book.
"With his body language, Sunday Dare is rooting for PDP candidates at all levels forgetting his benefactor, Asiwaju. He is forgetting the role Asiwaju played in his life. We regret having such ingrate as Minister from our dear state," the statement reads.