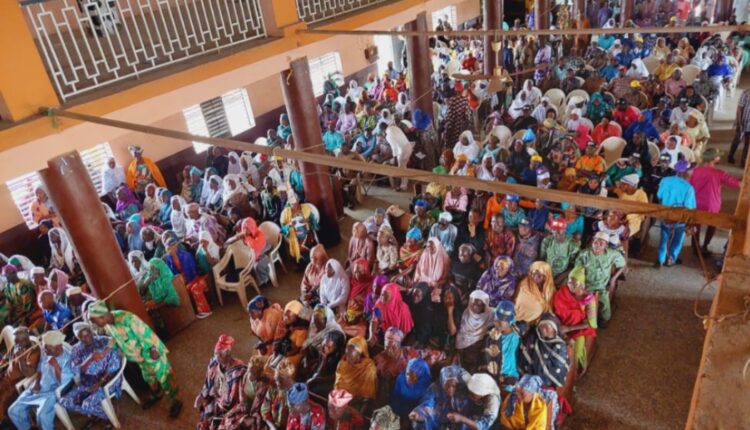 2023: Wéré, Don Bay, Other Oke-Ogun APC Leaders Meet, Vow To Deliver Zone For Party APC Candidates for Saki West/East/ Atisbo Federal Constituency, Saki East/Atibo and Saki West State Constituencies, Hon. Tajudeen Abisodun Ismail(Wéré), Hon. Busari Yakubu(Don Bay) and Hon. Shittu Ibrahim were in attendance as the progressive party held Federal Constituency meeting in Saki, Saki West Local Government, Area of Oyo State.
The first Federal Constituency meeting after party's primaries  which had people of glitz and glam took place at Saki City Hall, Saki on Monday, July 18, 2022.
While briefing journalists shortly after the meeting, Wéré disclosed that the meeting was the first coming together of party's leaders, loyalists and members of progressive party since after the primaries.
Wéré who spoke with press men in company of Don Bay and Ibrahim stressed that it was an avenue to rub minds together on how oneness, unity and love will be permanently restored in the progressive party's fold.
On area of crisis rocking the party across the pacesetter state, the legislative candidate maintained that the party had set up the reconciliatory committee with terms and reference to appeal to the aggrieved ones and fruitfully bring everybody together without a single person outside the fence.
Wéré added that the committee led by Senator Olufemi Lanlehin had begun work and which their movement and concerted efforts have been yielding positive results.
In another vein, Saki-born politician and two terms' ex member of the House of Representatives said his cardinal agenda would be premised on required legislation,effective  representatives and oversight functions respectively.
In his pledge, Wéré maintained that he would ensure that he makes motions and bills that would culminate into  needed and useful legislation to the constituents, works on effective representation and oversight functions among others.
The programme however featured the introduction of PDP decampees whose names are Alfa Ibrahim Folaranmi, Alhaja Mulikat Adebayo, Alhaji Ganiyu Balogun(Atisbo) and Hon. Ezekiel Adeagbo(Atisbo) respectively.
Among the dignitaries who attended the meeting were leaders from Saki West, whose names include: Chief Tejubiyi Ishola, Hon. Akin Ajekiigbe Bada, Chief Olaiya Akogun, Alhaji Yunus Azeez, Alhaji Ayinla Kakako, Chief Laba, Hon. Yunus Ojo and Hajj Yakubu respectively.
In Saki East axis, the leaders who attended the meeting were Alhaji Kareem Jimoh Dare, Hon.Sola Ogundiya, Chief Ojekalu Okegbami, Hon. Salami Jimoh Aderemi, Alhaji Lawal Fatai, Alhaji Abdul Azeez Ayemojuba, Mrs Easther Onifade, Hon. Aworinde Arike and Hon. Azeez Bashiru among others.
Atisbo Local Government had leaders PA Enock Adediran, Hon. Amoo Arowolo, Hon. Sangodipe Michael, Hon. Timothy Ogunkunle, Alhaji Ganiu Balogun, Engr Adeniyi Mathew and Mrs Ajuwon Julianah respectively.
Others were party's chairmen who are Alhaji Tajudeen Okunlola(Saki West LG), Alhaji Salaudeen Temidire(Saki East LG), Hon. Muftau Tafa(Atisbo LG), and Alhaji Yinusa Azeez who stood in for Hon. Bayo Shittu among other participants.