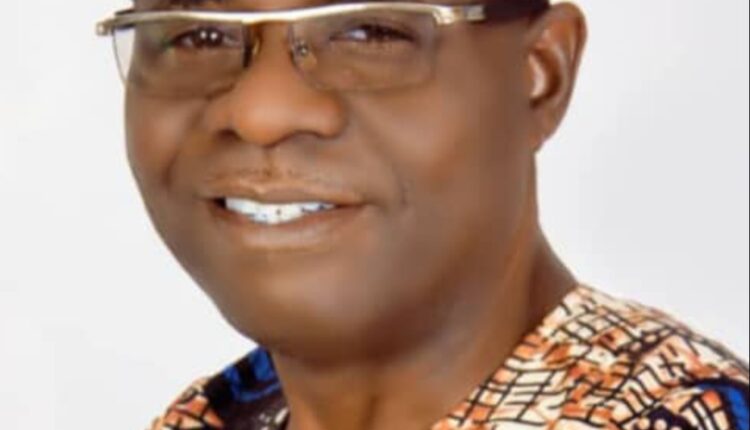 Council Boss Commends Makinde For Tackling Insecurity, Ensures Prompt Payment Of Salaries The Political Head/Administrator, Lagelu West Local Council Development Area(LCDA), Olorunda Abaa, area of Ibadan, the Oyo State capital, Hon Latinwo Lanre Bashiru popularly called LANBASH on Thursday commended the governor of the State, Engr. Seyi Makinde for his giant stride in tackling all forms of insecurity in the State.
He sought for support of the electorates for re-election of the governor as 2023 general elections are fast
approaching. "This government in there last three and half years has touched all aspects of human endeavors beyond expectations," he said.
Latinwo noted that payment of salaries remains priority and achievement for a serious government, urging people to reciprocate with their votes in the forthcoming elections.
According to him, prompt payment of salaries has improved standard of living in the state while fight against insecurity has attracted many investors into the State.
The Council Boss while felicitating Muslim Brothers and Sisters for the just concluded Eid Kabir in a statement he personally signed and made available to journalists by the Information Officer of the council, Ikeoye Oyetoro, emphasized the need to keep the State as one big family regardless of ethnic and language background.
The LCDA Boss while appreciating the Executive Governor of Oyo State, Engr Seyi Makinde for prompt payment of Salaries in Oyo State and ensuring peace and security of lives and properties across the State said the Makinde led administration is a blessing to the people of the State and generations unborn.
Hon Latinwo therefore urged all the residents of the state to keep praying for return of peace to other part of the Country, especially in the North, adding that "we all need to be vigilant and take note of every activities in our environment and report to the appropriate authorities if we sense any form of danger or abnormality.
The Council Boss on behalf of the good people of Lagelu West Local Council Development Area(LCDA), Olorunda Abaa, say a very big thank you to his Excellency, Engr. Seyi Makinde for his commitment towards the development of the State in all ramifications .
Similarly, the Acting Head of Local Government Administration, Lagelu West LCDA,  Mrs Akinrinde Funmilola in her Eid Kabir
message admonished Muslim Ummah to extend hand of kindness to the less privileged in society, saying the World will be a better place if the rich always see the poor as part of their responsibility.
She therefore wishes all the Staff members of Lagelu West LCDA happy celebration and pray that all the blessings associated with Eid Kabir shall be our portion.