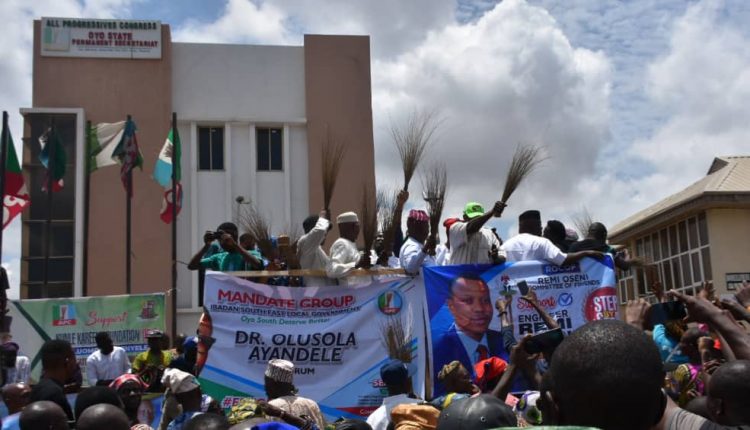 Defection Hits Oyo PDP As Makinde's Ex-Aide, Rep Member, Guber Aspirant, Other Gladiators Lead Over 35,000 To APC A governorship aspirant, Remi Oseni, a member of the House of Representatives, Muraina Ajibola, for chairman of Ibadan North local government, Hon Ademola Omotosho on Saturday led over 35,000 members of Peoples Democratic Party (PDP) and Action Democratic Congress (ADC) to the All Progressives Congress (APC).
Also defected is the former chairman of Akinyele Local Government, Yemi Aderibigbe and former Special Adviser to Governors Seyi Makinde and Abiola Ajimobi; Hon. Ademola Omotoso –  former Executive Chairman of Ibadan North LGA; Hon Akeem Okedina – former Chairman of Ido LGA; Chief Michael Adegbite – former state chairman PDP and former executive chairman of Kajola LGA; Hon. Wasiu Emiola – former state secretary Oyo PDP and former member,  Oyo SUBEB; Hon. Soji Olaojo – former educational secretary and former state chairman of NNPP; Sir Adigun Olawuwo – former Oyo senatorial chairman of PDP; Hon. Hussein Akinlabi – 2019 ADC House of Rep candidate for Ibarapa Central/North; Alhaji Surakat Busari – former leader of PDP in Akinyele LGA and Hon Femi Ajayi Oye – former leader of PDP in Lagelu LGA.
Other parties' top notchers included Chief Olawuwo Adigun – former vice-chairman (South) PDP Oyo State; Hon. Sabitu Moliki former state Ex Officio of PDP; Asiwaju Adekola Adeoye – former State Youth Leader of both PDP and ADC; Hon. Gbenga Coker – former State Organising Secretary of Accord Party; Hon. Lukman Adeoye – former Secretary of PDP in Ibarapa East LGA and former State Youth Leader of ADC; Hon, Bola Akinyemi – former State administrative secretary Accord Party and former member of Governing Council, The Polytechnic Ibadan; Hon Suleiman Awujoola – former National Southwest Chairman, Atiku Abubakar organization; and Mrs Hannah Olufunke Babarinde – former federal Constituency Women Leader of PDP Ibarapa North/Central.
Other defected PDP leaders from Ibarapa Central LGA where Rt. Hon. Muraina comes from included Alhaji Abiola Azeez – PDP Chairman for Ibarapa Central; Mrs Toyin Afolabi – Women Leader PDP Ibarapa Central; and Hon. Lukmon Uthmon – former PDP state assistant secretary. Other former  PDP leaders from the council area that ported to APC are Alhaji Rasaq Olatunde Garai, Chief Segun Adeleye, Chief Isiaka Oladoja, Hon. Olakunle Sunmonu, Mrs Nike Adegoke, Mr. Bayo Okedokun, Alhaji Najeem Afolabi, Mr. Akanni Oyadiran, Mr. Alani Oguntade, Mrs Funmilayo Olabiyi, Pastor Gbadebo, and among others.