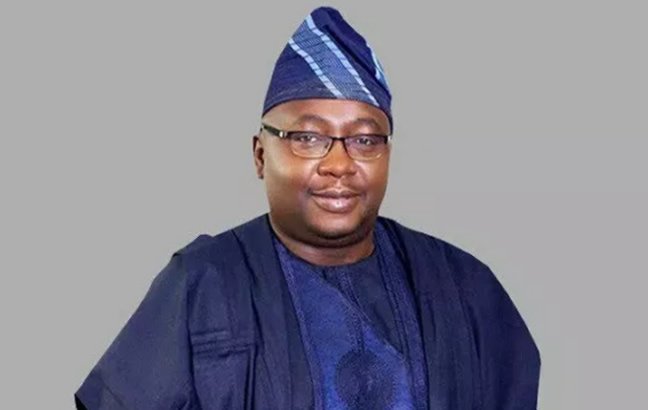 Fear Grips PDP, APC Because Of Our Acceptabilility – Adelabu's Media Aide After the official affirmation of Chief Adebayo Adelabu as the Authentic Governorship Candidate of the Accord Party, fear has gripped both the PDP and APC in Oyo state over the support given by the people of the state.
Within a few weeks Chief Adebayo Adelabu joined Accord Party in Oyo state, 80 per cent of Unity Forum, a formidable Group within the party officially left APC to join Accord Party.
While reacting to a statement credited to Southwest chairman of All Progressives Congress APC, Isaac Kekemeke, the Special Adviser on Media and Publicity to Chief Adebayo Adelabu, Comrade Femi Awogboro said Kekemeke is ignorant of Politics in Oyo state.
The political history in South West generally is an eyesore that common sense is always recourse to in elections season; like Chief Adelabu Adebayo, OFR, there are records of former governors who lost elections in their first-time appearance and some during their second-time bid but were represented by party leadership and stakeholders. Perhaps a list of a few of them will help;
Our late leader in Oyo state, Sen. Isiaq Abiola Ajimobi lost his first-time election bid but Common sense on the part of party leaders represent him for the election in 2011 and he won.
Sen. Ibikunle Amosun is another beneficiary of Common sense politics when he lost his first-time Governorship election bid. The same also applies to Dr Kayode Fayemi who is serving his second term in office after the initial attempt was truncated. It is all about common sense from party leadership which our revered leader Asiwaju Bola Ahmed Tinubu is among. If Kekemeke did not see the wisdom in all of these. We can boldly say that he doesn't have the requisite logic to be in his current office. They should not bring Asiwaju into their shenanigans and rascality befalling the APC party already due to mismanagement of party politics.
"Isaac Kekemeke is known for using propaganda to make something out of nothing so that members of the APC will not call him figurehead southwest chairman.
"Since Kekemeke has emerged as the Southwest APC Chairman by accident, he couldn't settle irreconcilable differences in Osun State between loyalists of Governor Adegboyega Oyetola and former Governor Rauf Aregbesola who is the current Minister of Interior which led to the party losing the recently concluded Osun Guber Election to PDP"
"The SouthWest APC under his stewardship lost Osun Governorship Election to PDP while many members and relevant stakeholders continue to defect to Accord Party within a month."
Kekemeke, in his Ese Odo local government area of Ondo state, has no electoral value which necessitated his selection by Gov Aketi to be the south-west Chairman of APC to be relevant again but has since not given a sense of belonging during the APC primaries in his constituency and Ondo state at large.
He should not be taken seriously because when he was SSG to Late Governor Agagu, his anti-party activities were obvious which led to the emergence of Gov Kimiko as Ondo state Governor in 2009 under Labour Party.
We are watching how APC under his watch in the southwest will not collapse consequent of his insensitivity to the yearning and aspirations of members. Awogboro said
Comrade Femi Awogboro stressed that if Governorship Election is to be conducted today in Oyo state, APC Candidate will be defeated hands down. Even some members of the party know this except they want to choose to be economical with the truth.
He explained that the relationship between Asiwaju Bola Ahmed Tinubu and Chief Adebayo Adelabu is as strong as that of a father to his son and he wondered why Isaac Kekemeke decided to put his mouth into their affairs.
"Why is it that Chief Adebayo Adelabu and Accord Party are now the headache for APC? The so-called reconciliatory move led by Senator Olufemi Lanlehin was not successful because the leadership of APC in Oyo State had chosen to be obstinate in addressing important issues that led to the disunity of the party and mass exodus of progressives to the Accord Party that has now become a force determinedly moving to 2023 election with solid preparation and defined ideology." Awogboro said
Comrade Awogboro urged people to continue to support Chief Adebayo Adelabu and all Accord Party candidates in Oyo state for the betterment of the state.