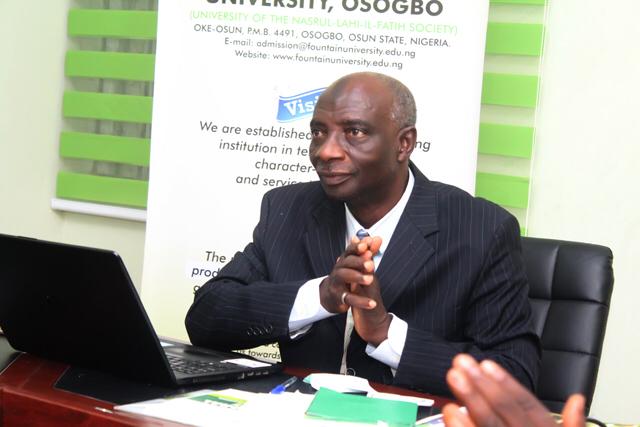 Fountain University Student Wins Distinction In Data Science In England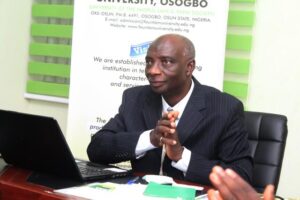 The Vice Chancellor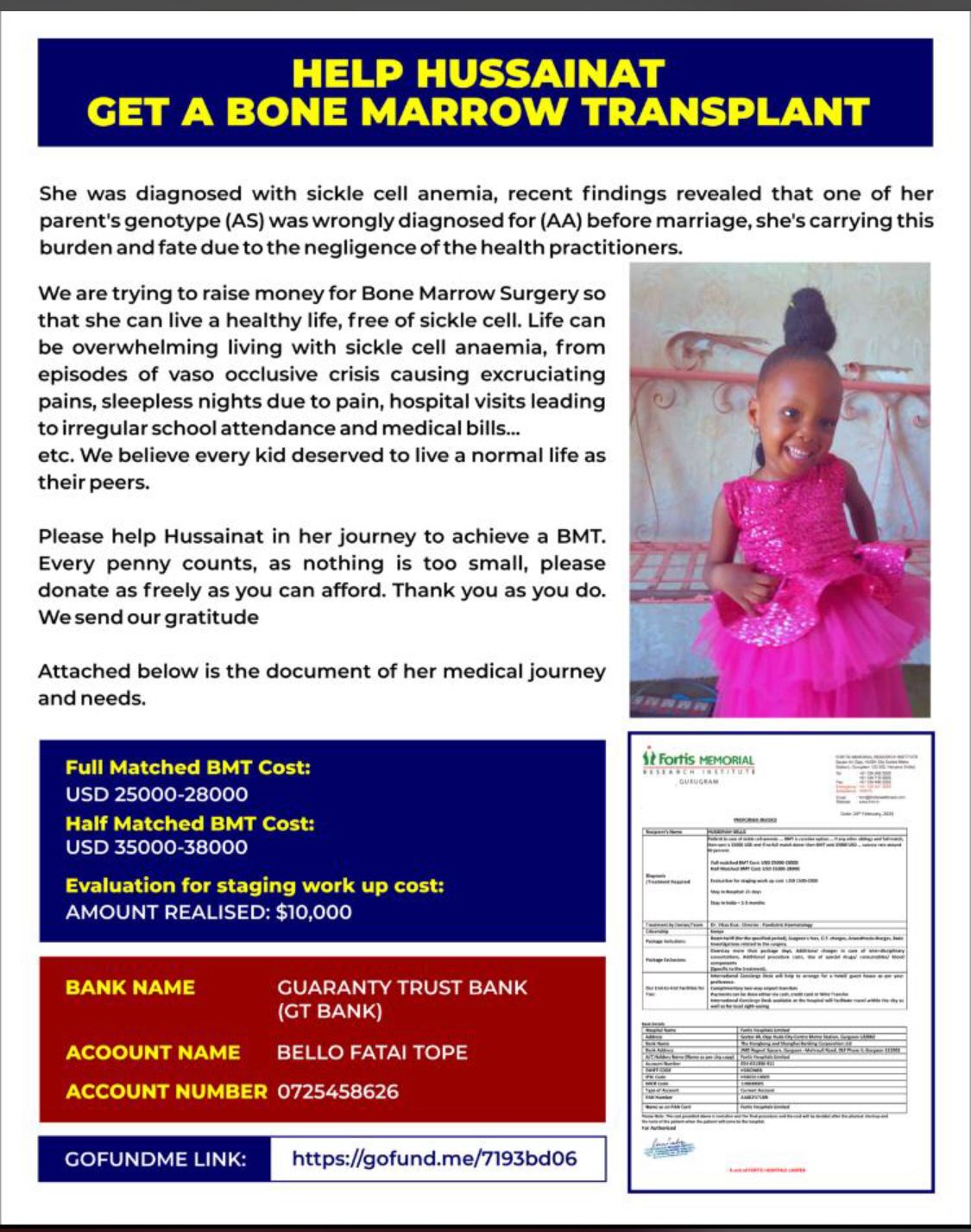 A female student of the Fountain University has just won the distinction in Data Science at the University of West England, the Vice Chancellorof the University, Professor Amidu Olalekan Sanni has said.
Though the Vice Chancellor however refused to mention the name of the student but also said; "some of our students are also lecturers in the United States, some of them are even professors now."
The Vice Chancellor said the institution would soon float a Radio station as a means to train it's mass communication students.
He knocked the Academic Staff Union of University(ASUU) and the federal government for the prolonged period of the ongoing strike of the universities in the country.
Speaking with the Southwest Group of Online Publishers (SWEGOP) at the school campus in Osogbo, said students of the institution have competed with students from Federal Universities and they defeated them.
"We don't waste time, we have stable calendar, no staff strike, no students' strike, no cultism and I will tell you why. And again, I am in a familiar terrain with you my brothers and sisters here. My first job was also as a TV producer. Infact, I was one of the pioneer staff of Television Service of Oyo State (TSS) which was founded by Chief Bola in 1982. I was their first producer to be employed. Incidentally, I was able to win the best producer award that time. I can tell you that I am in a familiar terrain with my family members.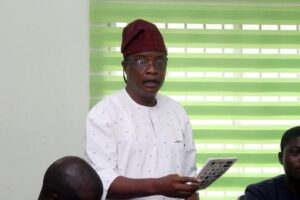 Swegop Chairman, Yinka Agboola during the visit to the university campus
"My coming to Fountain University was actually by accident. All along, I was in Lagos State University for 34years as a lecturer. Anyway, I am still there unofficially because I still maintain my position there as the Chief Imam of the University. I have a number of colleagues who are members of what I can call Imam in council. Everything in life should be a training ground. This is a system not individual. If you have a system in place, others can also take pattern and prove themselves so to say.
"When I came on board here four and half years ago, we had just two colleges; College of Management Sciences and College of Natural Applied Sciences with about twelve courses in place.
"We don't hide our religious identity, no apologies. Your believe is your personal matter and you should always be able to accommodate people on what they can offer you are not of their conviction. As I am talking to you, the head of our security unit in this University is a Christian, the Dean of our Post Graduate school is a Christian, infact, he was the one who gave inaugural lecture two weeks ago which was on the 11th of this month.
"The head of our technical/works is also a Christian, he was a pioneer staff member of this University. We allow Christian students to go for church services of their choice on Sundays which we monitor. Once they are here, they are under our custody, we monitor where they go and to come back as well. So, we allow them to practice. We also allow our Muslims to practice. Ofcourse, it is mandatory for them to go to mosque.
"Many parents are scared of the incidences of cultism and Yahoo Yahoo things. All our students here are residents, we accommodate all of them. They can't just go out anyhow. If there is any reason for them to go out, we treat them not like Secondary School Students but we monitor them very closely.
"We have now gotten four colleges; College of Basic Medical and Health Sciences which has the largest enrollment in the University, college of law, and the way we have structured this, our college of law is going to practically be the best in Nigeria and I will tell you why because this is not advertisement. I have a lot of networks across the world, particularly in Europe, America and Arab world because I had lectured in German, I speak very good German. Infact, on the 2nd of September, one of the leading German professors who is a fantastic scholar has been invited to deliver lecture at Kwara state library. He has also agreed to come to Fountain University on Friday and will even pass the night. We have been able to have all these our networks to create greater platform for interaction with academics across the world. That is another plus to our University.
"The way things are going, the people may not necessarily work with their degree because you might have studied marketing and end up being a fantastic event planner. So, we are trying as much as possible to develop skills outside the area of study. In Osogbo, we have what is called Industrial Centre. We have skills in ceramic, fabrication and several others. You could be studying law and be good in creative writing or a good rapper. We are trying to help our students to identify their potentials for them to be career makers rather than being job seekers.
"We are also taking care of people who have challenges with drugs and moral pervasion. We have what is called Academoral Centre. Some students due to peer pressure or trying to do something novel, they fall into drugs, cultism and Yahoo Yahoo something. The greatest thing you can do to a young man is to dismiss him from a University. Don't try to do that unless as a last result. Try to reform. We should be able to identify cultism, abuse use of drugs like headache, stomach pain like disease that have to be treated. If you have headache, you don't chop off the head, you treat it. I have met with the NDLEA chairman, Gen. Mohammed Buba Marwa, they want to make us the Southwest hub of reform and entrepreneur for people with this problem.
"The United Nations Office for Drugs Control (UNODC), I have met with their representative in Nigeria, they have agreed to train our staff members and those that are going to be handling it. We have a board, infact, the latest member of our board is the Director General of Medical Research Institute, Prof. Salako Babatunde from Lagos is on our board and we have several people like that. What I am saying is that don't just take care of the good or career students, if you don't take care of people with perverse something, they are the one to destroy them. Engage them. Some are not made to prosper with academics, all of us can't be in the same train. We try to encourage those that are academically inclined and everybody. One of our female students just won the distinction in Data Science at the University of West England. Some of our students are also lecturers in the United States, some of them are even professors now.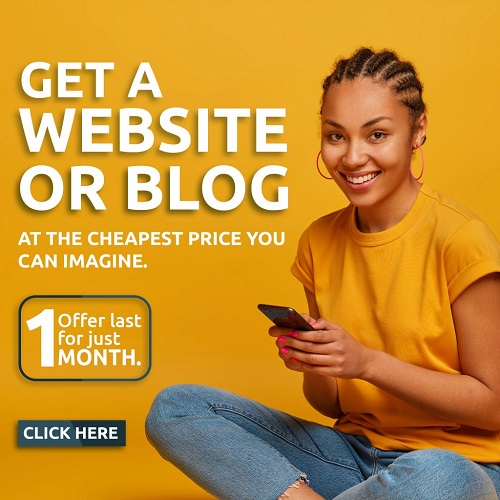 "We know the importance of our alumni. Most of the Universities you see in the world are living very much on the goodwill of the alumni because they want to give back to their University. We make this University a home away from home, any student you don't treat well won't come back that is why we maintain good relationship with our students. We try to take them as our children so that they can come back and think about us some other time.
"Within the last four weeks, there is what is known as ISESCO just like UNESCO which is the world agency that is prepared to ensure that we try students in all areas of discipline.
"By November this year, there is the meeting of all the Universities in the world, Fountain University has been selected to be the receiving centre for Universities in the world. The conference is to assist us with the exposure profile that we can post in the entire University of the world. The SDG, you can now have the opportunity of what is called Smart Agreed Village. We have over 135 hectares of land where we are going to have Smart Agreed Village where students are going to be producing foods and have Value Chain Agric Production.
"Our Mass Communication program is the most vibrant in Nigeria today. Our Radio station is going to start very shortly to train our Mass Communication students. Our students have competed with the Federal Universities students and they defeated them.
"Every University student deserves some freedom, parents want to be able to show their skills, powers, and what we have been able to do is that they are not living a regimented life at all. Some parents want the value system to be preserved. Some parents decidedly wanted their children, wards to come to a religious inclined institution believing that they won't misbehave. We ensure that they don't go out of the fold of the University system. They are not living a regimented life, it is a sort of monitored lifestyle. What we have been able to do is to be more rigorous with discipline. Our proprietor has given us free hand to run.
"It is a very serious situation that Nigeria has not been realistic. The current leadership of ASUU across the board believe that education must first be destroyed before it is rebuilt. That is the problem. Otherwise, no sane human society would allow a system to collapse for 6 months. Nigeria institutions' ranking has fallen too bad.
"No where in the world is education free, somebody has to pick the bill. The Government has not been sincere as to who pays for education and the idea of free education is not feasible anywhere. We should try as much as possible that the system of having a sort of student loan. In Freetown there is no free lunch.
"When Goodluck Jonathan was in power, he said there were Boko Haram in his cabinet, if the Head of State could say there are Boko Haram members in his cabinet, how do you solve that problem? The problem is that the money meant for procuring arms is being shared among some individuals. Those that are to ensure the quality of life and security network should be those that can't be compromised. So, Boko Haram will continue as long as the money for defense is available to be shared.
"One thing that has helped private Universities is that is no fund to be embezzled. Fountain University is been able to run on a low income because they know the poverty level of our people in Nigeria, especially in the Southwest. The Government does not spend anything on private Universities' facilities, it is only the money we generate from, school fees, philanthropists, bodies or unions. No private University is allowed to access TETFUND.
"That is the mistake the Federal Government has been making. The students serve together,  when we do research, we won't say the result of this research would only be used by only public or private institutions because we also collaborate with our colleagues in public Universities. But because the Government has this wrong perception that the private Universities are making profit. No! We are not making profit, even if we make extra money, we return it back to the system. What we have been ensuring is that the quality of our products cannot be matched anywhere.
"The same quality of qualification that is required to enter Nigeria Universities system is the same we employ here. We do not lower our standard.
"We prepare the students not only for academics, it is both in character and learning. Character comes before learning. Character is the key thing. Character will sustain them even after graduation. Our students imbibe the character of good behavior.
"They are very happy and satisfied with what we have been able to do so far within our limited resources.
"Nigeria has what I will call a systemic problem. Not only in education, all over. Before this oil boom came we can see the level of the degradation even in agriculture. Before oil came, we had Cocoa, palm oil, rubber and several other things. How do we ensure that agriculture raw materials would be able to sustain the Nigeria economy is very important. We should ensure that we have that kind of leverage of the Nigeria economy through agriculture, skill acquisition and entrepreneurship. We should ensure that the University system integrate skill development, entrepreneurship and innovation outside book work.
"Try to build a system not an individual. It is very important. Once you have a system in place, regardless of whoever is there, things won't change for the worse. If you are able to ensure the operation of a system, regardless of whoever is there, the system will continue working.
"Media should be the agenda setter for the whole nation. The idea of Muslim-Muslim ticket, the media is overheating the polity. It should not be. If anyone is kidnapped today, you won't ask if he is a Christian or Muslim, you will want the safety of the person. Religion is a personal matter. Yoruba family system does not discriminate. Why should we be emphasizing too much on religion? It is not fair! Let us live in harmony ensure that we have a very peaceful life to live together."