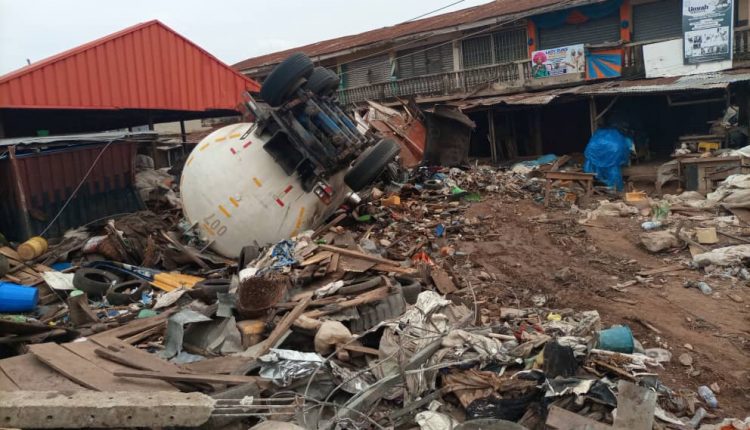 Gas Land Should Rebuild Our Market -Victims of Bode Market Accident Traders who were affected by the accident of Bode market have asked the Gasland Company Limited, the owner of the truck that killed about ten traders and destroyed goods worth million of Naira at the market to compensate them for loosing lives and money to the accident.
Oyoecho recalled that a fully-loaded Liquidified  Petroleum gas (LPG) tanker lost control at Bode market, rammed into the market and killed about ten people while many were injured.
Eyewitnesses told oyoecho that the gas tanker lost control close to Idi-Arere, a community closed to the market which made it difficult for the driver to control vehicle before it eventually crashed  into the market.
The incident according to some of the traders in the market occurred around 8:am when people were ruching to their worship places which caused apprehension between the passer-by and the traders running to different directions for safety.
But speaking with oyoecho on the development, some affected traders in the market said the owner of the truck which wreck havoc must compensate the traders.
One of the traders who put to bed few days to the incident Mrs. Ogunlani Tunrayo said many of the traders lost millions of Naira to the accident, urging the state government to come to their rescue.
"I just put to bed a week before the incident. I am suppose to be at home now but I just decided to come around to see the level of damages done to us.
"This is too much to bear. We are yet to hear from the gas land, the owner of the truck that wreck the havoc. I thank God I was not in the market when the incident occurred, maybe I would have been a victim," she said.
Another trader, Mr. Mojere Adeniyi who said he narrowly escaped being crushed, asked the owner of the truck to come to their rescue.
"Now that the truck had done monumental damages here, there is a need for the company to come to our rescue. The company cannot pretend as if it does not know what is happening here. We lost about ten people to the accident. That of Barakat is painful and disastrous to the family.
"There is a woman who lost two of her children to the incident. But we prayed that God should forgive their errors and give their families fortitude to bear the lost."