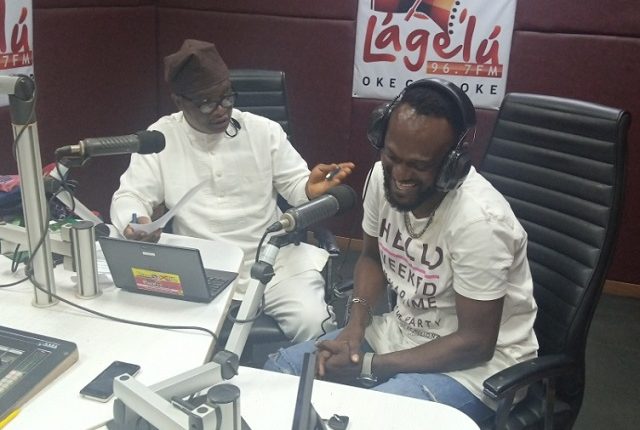 How Ayefele, Akala Assisted My Career – Femolancaster Fast-rising Nigerian Juju musician, Otunba Femi Fadipe popularly known as 'Femolancaster' has revealed how the personality of former Oyo State Governor, Otunba Christopher Alao Akala brought him into limelight in the musical industry.
He said, "The special album I waxed for his Excellency Otunba Alao Akala in 2005 and 2006 brought me fame even though I had been singing since 1999.
"I will say it here that Otunba Akala was used to turn my life as a musician around. He used his personality to encourage and lift me up. May God continue to be with him and his family too."
Femi, a Marketing graduate from the Kwara State Polytechnic made these revelations while featuring on a weekly radio show, 'Ayekooto on Radio' anchored by Olayinka Agboola, in Ibadan during the week.
While speaking about how he got his stage name in the music industry, he said "It started in my secondary school days. I used to visit one of my cousins studying at the University of Ibadan who was staying at Kuti Hall. One day he just called me Femolancaster and the name sounded odd to me.
I rejected it immediately and asked not to be addressed as such but the more I rejected it, the more I got popular with it. I did not like the name. However, today, even my mum calls me nothing than Femolancaster"
Speaking on his relationship with other musicians, "I am at peace with all my colleagues. I am not fighting with anybody, I have cordial relationship with them. I am an Ijesha man, I am after fame and money.
When asked about the Nigerian musician that has impacted most on his life, he quickly raised the name of popular musician, Dr Yinka Ayefele.
He said he is his role model and mentor in the industry as the creative musician has helped him to ride on his shoulder to achieve greatness and success in the music industry.
He said, "I can remember one of my trips to the United States of America – there was an opportunity I could have missed but Dr Ayefele did not allow me to miss it. He permitted me to open the stage for him in California and other cities while in the US.".
Femolacaster also used the opportunity to admonish Nigerian youths to put God first in their daily endeavors and to shun hard drugs as it is capable of ruining their future.