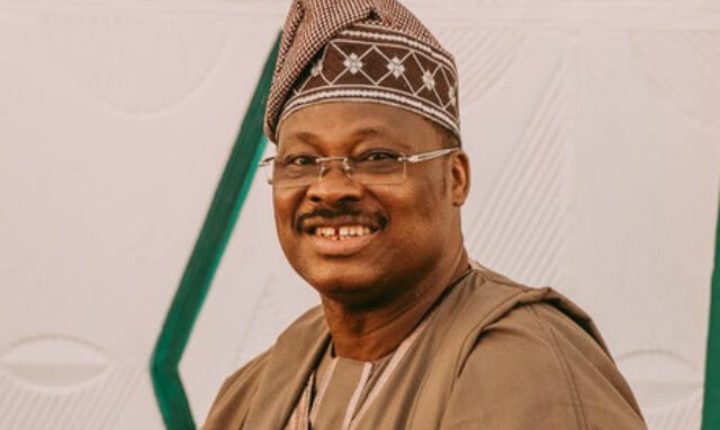 Ibadan Mogajis Frown At Ajimobi's Death Rumor, Pray For His Recovery The Ibadan family heads, otherwise known as Authentic Mogajis on Friday urged Nigerians to pray for recovery of a former governor of Oyo state, senator Abiola Ajimobi, rather than wishing him dead.
Mogajis said people should consider his contributions to the national development and not their personal grievances with him.
Rumor of Ajimobi's death was circulated on social media on Thursday night before his media aide, Bolaji Tunji issued a statement to debunk the rumor.
But the family head in a statement by its publicity secretary, Mogaji Wale Oladoja  said the announcement of his death by his enemies was unfortunate, disheartening and inhuman.
Executive members of the authentic Mogajis are; Mogaji Ademola Olasomi, Mogaji Molade Adeyemo Rasaq,  Mogaji Aperin Adekunle Olaonumi, Mogaji Itabigbo Badmus Adewale, Mogaji Olugbode Abiodun Tesleem, Mogaji Osho Falere Fagbenro, Mogaji Olanrewaju Fatai of Fatumo compound and other members of the authentic Mogajis.
The group warned people spreading his death rumor, especially the enemies around the hospital where he is currently receiving treatment to be careful of the information they are ditching out to the people.
Family heads therefore said though the nature of his sickness was not disclosed but it believes it could easily be treated locally.
"It is unthinkable that some evil individuals are planing and wishing the immediate past governor of our dear state, Senator Abiola Ajimobi death. Ajimobi had contributed greatly to the development of Oyo state and Nigeria as a whole. This is inhuman, disheartening and unfortunate.
"He may offend individuals but not to wish him death. We want those around him to be very careful before spreading fake news around. We also wants to encourage the family members to think outside the box by looking outside the box for his survival."