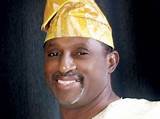 Lanlehin' Name Is Nowhere Near INEC Computer Base, Says Ladoja's Aide The Zenith labour party candidate for Ibadan North Federal constituency, Hon Olayinka Bibire on Monday said the independent National Electoral Commission (INEC) has not accepted the candidature of senator Olufemi Lanlehin as claimed.
He faulted leadership of ADC in Oyo state saying it is not a serious party ready to win election.
Bibire who spoke with oyoecho33 in Ibadan commended the leadership quality of the former governor of the state, Senator Rasidi Ladoja for his sincerity in politics.
According to him, leadership of the party ganged up against Ladoja to rubissh him after the election.
"Our Baba is a wise man, he sees beyond ordinarily, you can never caught him unaware. If not for Zenith Labour, he will have practically out of politics by now. The people in ADC ganged up against him, they want to use him without giving him anything in return." Imagine a senator, who is not a member of ADC, he came from nowhere and he still got the ticket. He told Senator Ladoja, an epitome of sincerity and simplicity that he will be forced to campaign for him because he is not a member of ADC."
While commenting on the candidature of senator Lanlehin who also belongs to the camp of Senator Ladoja camp, Bibire said, "Senator Lanlehin's name is not anywhere near INEC computer base. It takes few minutes to change name at INEC office and makes it public, why is it take that long for INEC to come out and tell us?
"ADC is not a serious party that is ready to contest and win an election."
Meanwhile, one of the 12 aggrieved aspirants of the party, Engineer Remi Oseni has declared that the party has shot itself in the leg with the recent substitution of Dr Bamidele Ajadi's name with that of Lanlehin.
Oseni declared that if the reported substitution actually happened, then the political future of Nigeria is rocky, stating that such step has further weaken the chances of the party and strengthened the opposition.
He said: "my hope in transforming Oyo State is fully alive. There is no amount of political intimidation that can suppress the will of God. If it is true INEC has replaced Dr Ajadi's name , then Nigeria is in a serious leadership challenge that can only be cured through serious deliverance prayers. 2019 is not about party, it is about personality. We need honest people who are ready to serve.
"Deceitfulnes and act of ungodliness will not be allowed in government house. Oyo people will decide who will rule them. The time of individual or group of people choosing the Governor is over. We would not allow illegality that will give birth to pains and affliction for Oyo again. Enough is enough," Oseni argued.