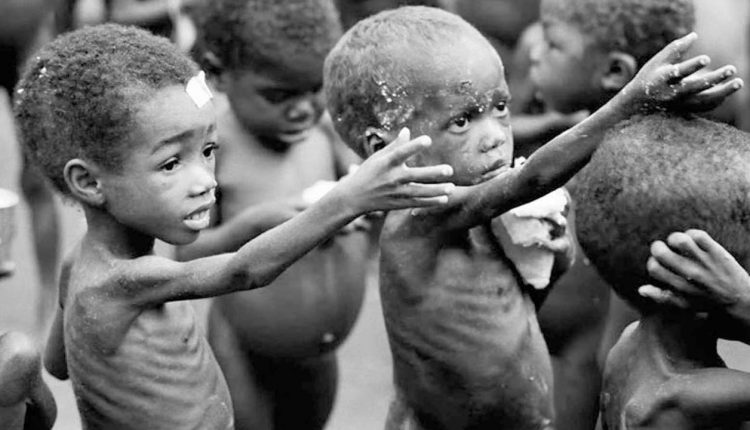 Malnutrition: Swiss-Based Group To Train Women, Young Farmers On Bio-Fortified Crops Global Alliance for Improved Nutrition (GAIN) is set to train women and young farmers in Oyo State to increase production of bio-fortified crops and tackle malnutrition.
Project Manager for Business Support, GAIN Nigeria, Ms Mercy Olorunfemi, made this known at an Agribusiness Innovation Clinic on Strengthening Nutrition in Priority Staple.
The clinic, organised by GAIN, was tagged: "Fostering Innovation and Collaboration across the Agricultural Value Chain."
The clinic hosted farmers and food processors from Afijio, Ido, Iseyin and Oyo West local government areas of the state as well as other actors in the agricultural value chain.
Olorunfemi said that the organisation would be working with small-holder farmers to
improve the processing techniques of bio-fortified crops, such as Vitamin A aassava and orange-fleshed sweet potato.
"The organisation will be working in Oyo State for four years to support farmers, food processors and businesses in the agricultural food value chain to promote the two staple crops, under the Strengthening Nutrition in Priority Staples project.
"We will be supporting 40 per cent women and 60 per cent youths with capacity building on food safety standards, appropriate packaging and micro-grants for small scale businesses," she said.
Mr Lachang Faden, who leads on the bio-fortification component, GAIN, said that GAIN would collaborate with International Institute of Tropical Agriculture (IITA) to provide 1,700 farming households in the selected council areas with stems and vines.
"This will help to transit a proportion of their cassava and potatoes production to improved bio-fortified varieties.
"The Vitamins A cassava and orange-fleshed sweet potatoes have been chosen to help reduce the malnutrition indices within the state due to its high nutritional benefits of addressing micro-nutrient deficiency.
"Nigeria is the world's largest producer of cassava, and most of its over 56 million metric tonnes per year is produced by small-holder farmers.
"Bio-fortification, therefore, provides solution to prevent vitamin A deficiency, based on the foods people already grow and eat every day.
"When eaten twice daily, yellow cassava can provide up to 100 per cent of daily vitamin A needs," he said.
In his remarks, the Country Lead for Nigerian Climate Innovation Centre, Mr Bankole Oloruntoba, stressed the importance of documentation of all good agricultural practices for future reference and creating an enabling environment for agricultural innovations.
Earlier, Special Assistant to the Oyo State Governor on Environment, Mr Ademola Aderinto, had pleaded with the farmers to dispose of their waste properly.
According to him, this will play a significant part in climate change, which adversely affects the ozone layer, leading to lack of adequate irrigation for their crops.
Aderinto said that anyone found culpable of illegal waste disposal or burning of waste on farm lands would face the wrath of the law.
The clinic created a platform for farmers to air their views on the reasons for poor adaptation of the two crops: Vitamin A cassava and orange-fleshed sweet potato, within the state.
The farmers noted that the impact of climate change and lack of financial and technical assistance to boost the supply as well as demand of the crops were part of the hindering factors.
While lauding the initiative of GAIN, they appealed to the state government and financial institutions for their support and assistance.
GAIN is a Swiss-based organisation, with a mission to ensure better nutrition for all, especially the most vulnerable.