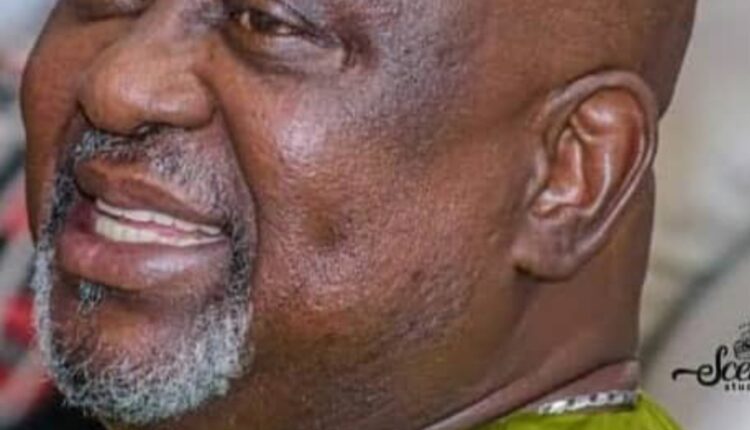 Nollywood Popular Actor, Akin Lewis Sets  To Show "The Groom" In Ibadan, Ijebu Ode By Seyifunmi Odunuga
Arrangements have been concluded for the doyen of Nollywood, Akin Lewis, to show his movie, titled; The Groom (Oko Iyawo), at the prestigious Mauve 21 Events Centre, Ring Road, Ibadan, on  the second day of Ileya, Sunday 10th July, 2022 and Monday, 11th July, 2022 starting by 12 noon, 3pm and 6pm.
The movie would be in cinema house in Ijebu Ode on the second day of Ileya, Sunday10th July, 2022  at Extreme Events and Suites, formerly Deprime Hall, 125 – 131, Molipa Road, Ijebu Ode, Ogun State. Time, is 12noon, 3pm and 6pm respectfully.
"Oko-Iyawo" is a comedy movie produced and directed by Lewis.
The story is around Chief Ifaseyi, a married man of many years with two children and living happily with his wife. Ifaseyi is not too rich until his girlfriend of so many years decided to marry him  as she just won a multi-million naira contract but which his wife resisted but finally succumbed  to after pressure from his friends.
Ifaseyi and the new lover got married and lived truly in opulence with lots of money, new house, cars etc and all was well until Ifaseyi decided to divorce the new wife, then hell broke loose!
The producer, Otunba (Dr) Akintola Akin-Lewis- Fta, Tdq, started his professional career in theatre in 1973 when he joined Odu Themes, a theatre group led by Prof. Bode Sowande of the then Department of Theatre Arts, University of Ibadan.
He later trained at the University of Ife where he obtained a distinction in Theatre Arts under the tutelage of Nobel Laureate, Prof. Wole Soyinka, Dr. Yemi Ogunbiyi, Sunbo Marinho, Chuck Mike, and many others.
He also perfected his craft on the Wole Soyinka theatre stage of University of Ibadan under Dr. Zulu Sofola, Bayo Oduneye (Uncle B) and Prof. Bode Sowande.
Akin Lewis bagged an MA  in Theatre (Acting and Directing) from Sofia Bulgaria,  PGD in Marketing Communications from University of Lagos and was recently awarded Honourary Doctorate degree (HONORS CAUSA) in Politics and Social Human Development by SANCTI PAULI LUTHERAN INSTITUTE FRANCE.
In recognition of his 49 years of service in the industry, he was conferred with the award of Fellow of Theatre Arts (FTA) by the National Association of Nigerian Theatre Arts Practitioners (NANTAP).
Akin Lewis has acted in several stage plays at home and abroad which include BIKO's INQUEST, WEDLOCK OF THE GODS, THE NIGHT BEFORE, KURUNMI, AND MACBETH.
He  joined NTV IBADAN in 1977 where he further trained as an Actor, Producer and Director and he is renowned for his role in WHY WORRY THE LION AND KOKO CLOSE.
He relocated to Lagos and gained world wide fame for his roles in MNET' series TINSEL, HOTEL MAJESTIC, THE BRETHREN, as well as numerous genres of films in Yoruba language, such as MADAM DEAREST, ALANTAKUN AND WERE ALASO.
His English language movies include YOUR EXCELLENCY, KING OF BOYS 1 and II etc. Akin Lewis also excelled in the corporate world where he worked at Directorate levels in GLOBACOM LTD., CENTRESPREAD FCB (Advertising & PR), OMEGA Bank and CMC CONNECT LTD. (PR).
He was Rector of Graig Davies College of Technology that offered media studies in Lagos.
Akin Lewis served in the ministry as an ordained Evangelist all over Africa. He is a Polyglot and widely travelled at home and abroad.
He is the scion of the house of Abraham Davie Lewis of Owu Egba and later of Olowogbowo Lagos and also of the house of Adedoja Ekolo of Oke-Odo Ibadan.
He is happily married with children.
The movie film show, tagged "Ileya Special" is by AAL Movie Productions and to be packaged and marketed by Apreel1 Events Management.