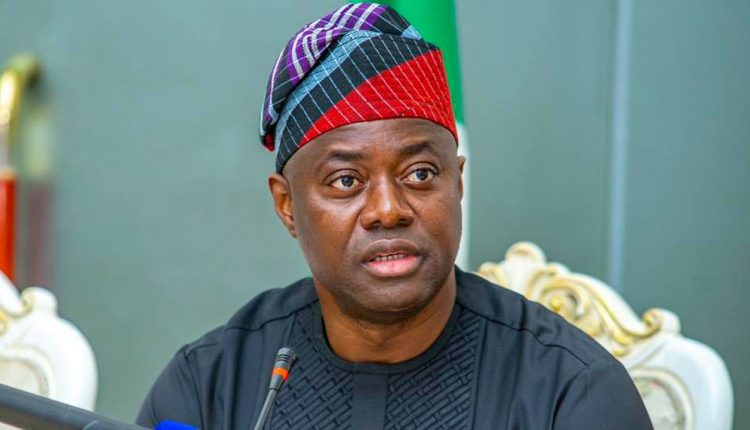 Oyo Peaceful, Secure For Investors, Residents – Makinde Oyo State Governor,' Seyi Makinde, on Monday, reiterated his administration's  determination to ensure that the state remains peaceful and secure for residents and outsiders, especially individuals and organisations desirous of investing in the state.
The governor added that his government has been promoting religious tolerance and harmony in the state without bias or sentiment for any religion.
Governor Makinde stated these while receiving a delegation of Saudi Arabia
led by the Head of Arabic Language Department, Umm Al-Qurra University, Makkah, Professor Hassan Hameed Bukhari, at the Governor's
Office, Agodi, Secretariat, Ibadan.
A statement by the Chief Press Secretary to the governor, Mr. Taiwo Adisa, quoted Makinde as saying that the state is peaceful and welcoming for everyone irrespective of religious affiliations.
The governor thanked the Saudi government for bringing the workshop on peaceful co-existence targeted at
judges and university lecturers to Ibadan, noting that the workshop would further promote harmonious relationships in the state.
The governor said: "Some of the things the S.A Islamic Affairs mentioned are things that we did but he did not mention the most important one that is so much after my heart. And I will tell you why.
"You know, when you do things that are physical like sending people on Hajj, building a mosque, those are physical things. The one that is very spiritual is the Ramadan lecture we do organise for our people, which basically is giving the people spiritual food. You can give people physical food but when you feed them spiritually, I think that is the most important thing.
"For us as an administration, we are almost blind to religion. That is why in Oyo State today, people are unable to divide us along religious
lines.
"They may say a whole lot of things but at the end of the day, the truth always prevails.
"Finally, I want to thank you for the workshop. It is a confirmation not just to the people of Nigeria but the international community that you can come from different places and be comfortable within us here.
"We want the message to go out that Oyo State is peaceful and welcoming
even to outsiders."
Earlier, the Head of Arabic Language Department, Umm Al-Qurra University, Makkah, Saudi Arabia,  Professor Bukhari, said that the team was in Ibadan for a workshop at the University of Ibadan, for judges and university lecturers "towards promoting religious coexistence among the people."
Bukhari, who spoke through an interpreter, lauded the Oyo State government for forestering  a peaceful atmosphere in the state, adding that  and it has also been fair to the Muslim Ummah.
He expressed the readiness of the Saudi authorities to assist the
state in the areas of development.
He thereafter decorated the governor with a special recognition award of the Umm Al-Qurra University Makkah, for his good deeds towards Islam.