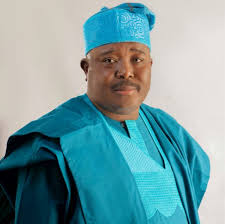 Sen. Alli Triumphs Through Appeal Court, Defeats Tegbe, Gbogbolomo The Appeal Court sitting in Lagos, has upheld the judgment of the National Assembly Petition Tribunal which validated the victory of Sen. Sharafadeen Alli (APC- Oyo South), as declared by the Independent National Electoral Commission (INEC).
This is contained in a statement signed by Alli's Special Adviser on Media, Akeem Abas and made available to newsmen on Saturday.
Alli won the separate appeals filed by Chief Joseph Tegbe of People's Democratic Party (PDP) and Funmilola Gbogbolomo of New Nigeria People's Party(NNPP).
The court dismissed Tegbe's appeal on the grounds that it lacked merit, thereby affirming the judgment of the tribunal.
In Gbogbolomo's appeal, the court rested the entire Judgement on the sole issue we distilled by the 1st Respondent (INEC).
The court agreed with the tribunal and defendants that it the case was a pre-election matter, while also agreeing that the appellant did not prove non-compliance.
The judges unanimously dismissed the appeal and awarded cost against the Appellant.
Tegbe and Gbogbolomo had appealed the judgments of the tribunal which dismissed their separate petitions against Alli's victory in the February 25 National Assembly election in Oyo South.
The tribunal had in its judgment, said that the evidences presented before it by the Tegbe and PDP were not credible and difficult to believe.
It said that Tegbe had failed to present cogent, reliable, and compelling evidence, sufficient to affect the results of the poll as declared by INEC.
The court dismissed the petition on the grounds that the petition was incompetent.
While delivering the final judgment in the NNPP case, the Tribunal held that the petition was incompetent as the ground upon which it was premised related to a pre-election matter which ought not to be brought before the Tribunal.
The tribunal in the NNPP case held that having regards to the pleadings and evidence before the Court, the petitioners also failed to rebut the presumption of regularity in the conduct of the Election by INEC.
It dismissed the petition on the grounds that it was incompetent and lacking in merit.