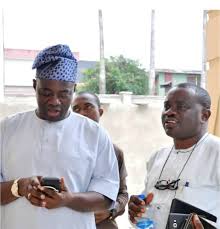 Social Media Users Blast Oyo Govt Over Claims On Covid-19 Palliatives
Social media Users have disagree with the Oyo state government over it's claims that the warehouse bugguled in Akobo area of the state belongs to a private individual.
In a story posted on Facebook by 
oyoinsight.com
, many commentators said the Oyo state government was only finding a way of cover-up for keeping the covid 19 Palliatives which ought to have been distributed.
The state government had on Saturday morning through a statement issued by the chief press secretary to the state governor, Mr. Taiwo Adisa explained that some hoodlums had mistaken a private warehouse belonging to a company that operates in Ibadan, as belonging to the state government and had attacked the property and carted away bags or rice, which they erroneously thought were being hoarded by the government.
He said: "One, investigations at the moment eventually reveal that there was nothing that concerns the Oyo State government in that warehouse.
"Two, the warehouse belongs to a private individual who operates in Oyo State and was given a valid contract by the Coalition Against COVID-19 (CACOVID), a coalition of private organizations that have been helping states and the federal government to fight COVID-19, to supply them to a certain number of states.
"So, it was the rice that he procured on his own for repackaging that was mistaken to be Oyo State's, that hoodlums looted."
He further stated that the state government could not hoard what it did not have, explaining that CACOVID only supported the state with cash, medical items and food items including Indomie and Spaghetti.
But however, the Facebook user with the name; Alade Nafisat Tmybola said;
"Story for the gods🙄 even if it's meant for other states,it's shaa still nearby for Nigerians and na still Nigerians (in ibadan) Waka am😃 since dey chose to harbour it  even wen pipu re dieing of hunger eni kuure 😡"
On his part; Olu Johnson; "…it is for state government. I think Buhari is not our problems but the governors."
Speaking further; Oladimeji Usman Abiodun said; "So d one in Lagos is also cacovid is ur wharehouse also,who is fooling who."
Another user with the name; Atilola Abiodun Ibrahim said; "Na lie how the rice that meant for other states found in Oyo."
Alfa Idowu in his comment said; "Just shut up your dirty mouth. Àwọn olósà"
While Tayo Ade said; "It is so unfair."
Olabisi Oyebamiji comented that; "Continue fooling the daft Citizens of the state."