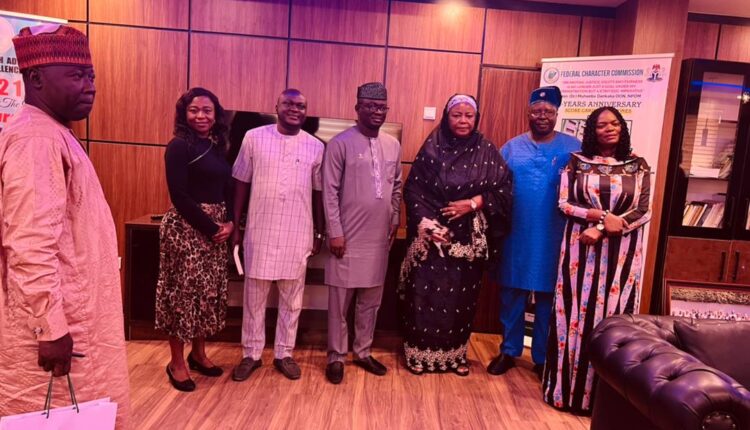 Wale Ajani Visits Federal Character Commission, Makes Case For Inclusion Of Oyo Indigenes In Federal Job Opportunities The Director General of Oyo state Liaison Office Abuja and Lagos, Wale Ajani today visited the Chairman, Federal Character Commission (FCC) Dr. Muheeba Dankaka with a view to seeking for improved mutual relationship.
Ajani, who was in company of top Management staffs of Oyo state Liaison Office in Abuja also paid the Federal Commissioner in the FCC, Professor Adeniyi Olowofela a courtesy call and to fashion out ways to get unemployed Oyo state indigenes federal government job opportunities during recruitments.
In his brief remarks, Ajani stressed the importance of the chairman to the overall development agenda of Oyo state under the present Gov Seyi Makinde led government and also desire to collaborate effectively with the commission in order for Oyo to benefit more than before in terms of slots, opportunities, and considerations.
He also solicited for more inclusive representation of oyo state indigenes in the area of recruitment in line with the federal character principle and for oyo state indigenes not to be shortchanged or schemed out of things during recruitment exercise.
The Chairman in her response, expressed the commission's willingness to collaborate with Oyo which was said to be long long overdue and thanked Governor Seyi Makinde for appointing a new DG with eyes on diverse opportunities from Federal MDAs.
She also expressed the commission's readiness to meet with Governor Makinde in order to delibrate on how to fastrack the construction of the permanent site of the Commission in the state which has already been budgeted for in the 2022 financial plan.
She added that the construction of the State Office would provide job opportunities for quite a large number of oyo state indigenes as well as serve as catchment areas after the commissioning of the new permanent office by the Governor.
The Chairman however, appreciated the DG. Hon. Ajani and his team for coming on a courtesy call saying the gesture was timely, heartwarming, and productive.
Ajani in his final remarks thanked the Chairman for the warm reception and promised a more cordial and mutually beneficial relationship between oyo state and the commission.