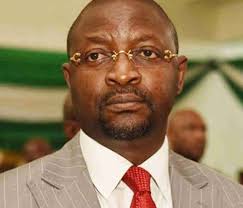 You're Abuja Politician, Don't Destroy APC In Oyo, Group Blasts Sunday Dare The Oyo Central Senatorial Caucus of the All Progressives Congress (APC) on Thursday blasted the minister of Youth and Sport Development, Mr. Sunday Dare over his recent comment on the zoning arrangement of the party.
The group described Sunday Dare as an Abuja based-politician who never participated in Oyo state politics before now but fortunate to be appointed as a Minister.
The Oyo Central Senatorial Caucus in communique issued after its meeting and signed by it's Chairman, Hon Adigun-Hammed Abiodun, (Murphy) Secretary, Tunde Adeleke, and a leader, Isamila Akani Ere, former chairman Ona-Ara, said the statement credited to the minister was unfounded.
According to the communique, the former governor of the state, Otunba Adebayo Also-Akala had done well by inviting the authentic progressive leaders in the state before making pronouncement on its zoning arraignment.
The group further said it is obvious that the people of Ogbomoso land where the Minister claimed as his constituency are not benefiting anything from him, warning that such inconsequential politician is dangerous in Oyo political.
The statement reads in part; "we are happy that this is coming at a time we are preparing for internal elections and not general election. We are the real founders of the unity forum in Oyo state and we know reason for emergence of the group prior to 2019 elections.
"For the likes of Abuja-based politician like Sunday Dare, the minister of youths and sports development who was fortunate to be appointed to be condemning a well structured zoning arrangement put together by the leaders of the party in the state, it is unacceptable.
"We challenge Sunday Dare to tell us the strength of his structure and what he has contributed to the development of our party in the state. We cannot watch while he continues to insult the party elders for their sacrifices for the party. We want him to retract the statement he issued few days back on the zoning arrangements of our party. He was not a member of unity forum and he lacks ability to speak for them in any capacity."