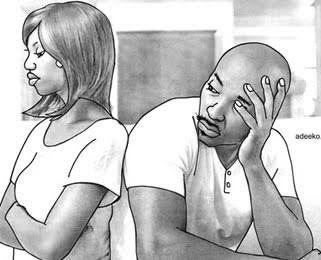 Court Dissolves 18-year-old Marriage Over Aalleged Sex Starvation The President of a Customary Court sitting at Mapo in Ibadan, Chief Ademola Odunade, on Friday dissolved an 18 year-old marriage between a public school teacher, Juel Olutunji and estranged wife, Blessing over alleged nagging and sexual starvation.
Odunade said that he dissolved the union in order to allow peace to reign between Juel and Blessing.
He however, awarded custody of the first two children produced by the marriage to Juel and the last to Blessing.
The Arbitrator also added that the plaintiff should pay a monthly feeding allowance of N5,000 to the child in addition to been responsible for her education and other basic needs.
In his earlier account, Juel who resides at Omiadio told the court that he was completely frustrated without any peace of mind due to the psychological and emotional trauma his wife had subjected him to.
"Immediately after our wedding in 2002 when Blessing delivered our first child, she became a monster, nagging day and night that I didn't cater for her.
"She consequently prevented me from touching her for good three years and it was as if I was in the wilderness because I didn't want to commit adultery.
"My relatives and hers intervened and asked her what she actually wanted, but she had nothing tangible to say.
"Blessing managed to change a beat and we had two more children amidst her uncertainty and frustration.
"She was staying in Lagos State and prevented all my attempt to get her relocated to Ibadan.
"Blessing has denied me sex since we had our last child who is about seven years of age now.
"Worst still, she has taken all steps to prevent me from having access to them whereas, the children prefer my custody," Juel explained.
However, the respondent was absent when she was called to state her own side of the story and it was the third time of her none appearance without any representation.