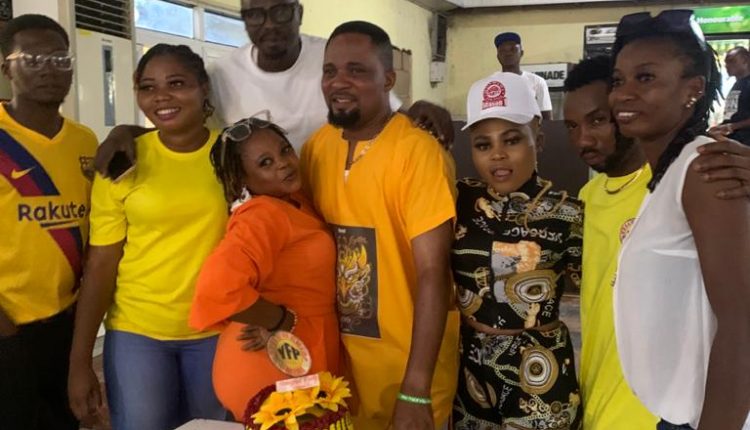 Fun As Yellowman Hosts Fans In Ibadan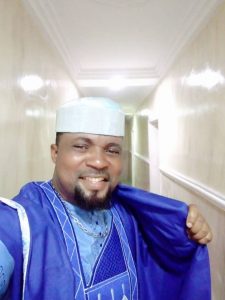 A popular on air personality, and the Chief Executive Officer (CEO), Yellomania Fan Page, Abiodun Abolade Salami popularly called, De Yellowman on Saturday hosted the median edition of annual Yellowman hangout as give back package to some of his loyal fans.
The event which was held at a popular guest house in Ibadan, the Oyo state capital was organised in conjunction with his fans.
Yellowman, who is a regular anchor of 'Lagboregal' on Lagelu 96.7 FM and King 103.9 Fm has thousands of friends and fans who are appreciating his dexterity and concept on air.
Apart from other media practitioners who graced the occasion, many of his fans from Lagos, Kogi and Ogun states and other part of the country also stormed Ibadan to celebrate the on air personality.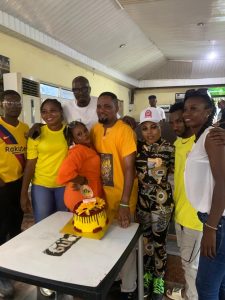 Some of the guest are; Oladipo Abiola,Adekanmbi Segun,
Oluleye Akinade, Bakare Atinuke,
Adeosun Halimat, Aminat Alli,
Otitilola Modupe, Aderemi Gafar Gaph,
Wale Omolofe, Amoo Sunday Alhaja Layemi Sakirat, Alhaja Idowu Giwa, Mr Abiodun Ogunsola Popsy Aliya, Pastor Badejo Yayi, Miss Bolatito.
Others are; Tola Johnson, Barrister Kaniyi, Mustapha Omotolani, Aderibigbe Bukola, Habeeb Salami, Oyindamola Salami, Lawal Ganiyat, Olanipekun Adedoyin, Rita Omobolanle, Titilayo Ellabee, Grace Portable, Prince Olaniyi, Yomi Fash and others.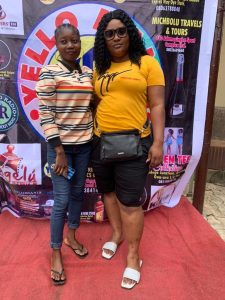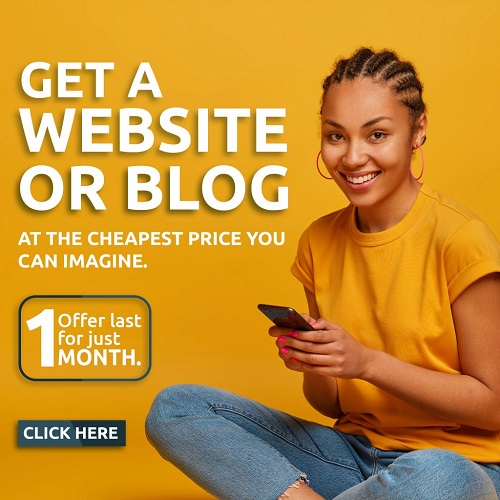 Speaking on the event, the organizer, Abiodun Abolade Salami said the programme was put together to meet some of his loyal fans who have been following his programme for many years.
He described the programme as a success, saying; "I feel real love from my fans and friends."
Salami said; "I am humbled. My fans are now  my family because they have demonstrated real love for me. I decided to host my fans because I appreciate them. I couldn't believe many of them traveled down to Ibadan as far as Lokoja. It is a real love.
"Their support is a source of motivation for me. It is a message for me to do more. I promised not to let them down and I won't let them down."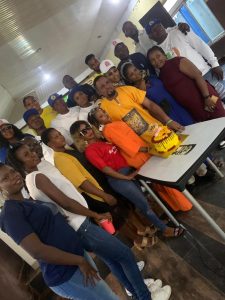 On the subsequent events, Salami said; "though we are planning to take the next hangout to other states such as Legos but I am working hard to ensure we increase our fan base in Lagos dito other states so as to have required number of fans to host event.
"But I am assuring you that by next year many people will join us, even from Lagos and other southwest states. I love everyone of my fans and I appreciate them all. I am wishing them the best in their endeavors."
Commending some of his fans in diaspora for their moral and financial support, Salami said; "my special thanks goes to Madam Bolawa Monisewa in United Kingdom, Mr Loalu Lapos Dubai and Mr. Abiola in United Kingdom for their usual support. They are the real backbone of De Yellowman and Yellomania concept. I will never forget their roles in this project."
He implored Nigerians to give their support to his programmes which are always coming up between the hours of 9:30 pm and 10pm every on Friday,
Nifaaji on Mesiogo Radio  2pm every Mondays, same Mesiogo Radio
Highlife Tunes 1pm every Wednesday and Mesiogo Radio Aiye Campus Thursday 4pm.