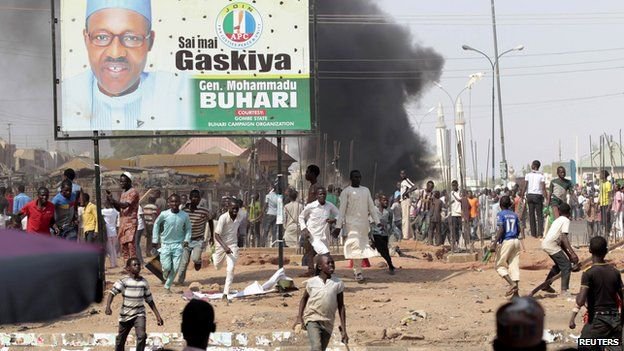 Party Politics, Democracy and Electoral Violence Undoubtedly, the manifestations of violence associated with the conduct of ward congresses by the ruling party, All Progressives Congress (APC), across the country cum the suspension of governorship primary in Ekiti State few days ago as a result of violence have brought to the fore once again that perhaps the greatest challenge to sustainable democracy in Nigeria is electoral violence.
If media reports across the country vis-à-vis deaths, maiming, intimidation, harassment and brute force associated with electoral contests in Nigeria are taken cognizance of; decent people may be scared from partaking in partisan politics which may not augur well for the well-being of the polity. So far the party's on-going congresses have witnessed large scale crises in more than two-thirds of the states, with as much as 24 state chapters conducting parallel congresses for both ward and local government.
It is imperative to emphasize the fact that our nascent democracy cannot be consolidated if Nigerians do not eschew violence. Between 1999 till date, Nigerians are expected to have fairly imbibed the required congruent political culture that could sustain democracy. But alas! Reverse is the case. The snag is that the so called progressives too that should promote harmonization, consensus and other democratic canons and ethos are deviating badly from the norms. In a perceptive work on African politics generally, Celestin Monga, identified eight problems with African politics of which electoral violence featured prominently.
In his words: "the weakness of political parties, manipulation of electoral process, a narrow political field, a constrained civil society, a controlled press, the absence of civility, privatized violence and politicized armies and international support for dictatorship". Glaringly, the concomitant effect of violence on democracy generally is loss of legitimacy that has characterized African elections; thereby making nonsense of elections as mere political rites. Most governments formed in Africa suffered from acute legitimacy crisis simply because elections were far from being free and fair simply because of electoral violence, manipulations and gerrymandering generally.
Nonetheless, virtually all regions and climes of the world are not immune from the venom of electoral violence, but the intensity is much more pronounced in Africa and other third world countries. The etymology of the phenomenon is however daring in Africa. For instance, in Kenya, former President Arap Moi resulted to political violence as a means of retaining power. Similarly, Kibaki who succeeded him was guilty of 'daylight robbery and a civilian coup' that took lives. In Zimbabwe, Tsvangirai withdrew from the run-off of 2008 in protest over political violence that killed over 120 people and displaced thousands. The April 24, 2005 Togo presidential election triggered off political violence resulting to the outflow of Togolese refugees to the neighbouring countries of Ghana and Benin Republic. The experience of Democratic Republic of Congo (DRC) was far from being palatable with millions displaced and over 200,000 deaths! In most cases, voter turn outs are very low because prospective voters are scared to the marrow that they may be killed, maimed or intimidated by hoodlums in an attempt to disrupt the process.
In Nigeria's colonial and post-colonial era, hardly could one recall an election devoid of violence. It is sad that African democracies without any shadow of doubt have become associated with violence even with the slightest provocation. Political scientists with bent on studying the political behaviour of political gladiators have come to the conclusion that, "political violence is an instrument used by groups seeking power, by groups holding power and by groups in the process of losing power". In essence, virtually all power seekers at all levels are involved in the unwholesome act.
Be that as it may, the concern of well-meaning Nigerians is that if the intensity of violence is so disturbing vis-à-vis intra-party factions and squabbles, then, the expected bickering from inter-party electoral competitions may be deafening come 2019 general elections along with its debilitating effects on the nascent democracy.
It is important to note that the peculiarities of African states are responsible for the spate of violence in the body politik. For instance, most African countries are plural and deeply divided societies with sharp cleavages in all ramifications. This has gone far in exacerbating ethnic politics in a very divisive manner.
The boomerang effect is violence that has percolated into our marrows. Coupled with this is the high rate of unemployment among able bodied youths that have become ready tools in the hands of desperate politicians that like to foment troubles. Annually, our tertiary institutions turn out thousands of graduates that cannot be absorbed by both the private and public sectors of the economy. An idle hand they say may become devil's workshop.
One other observable phenomenon is where vote buying is likely to fail, violence comes in; unpopular politicians do inject a lot of money into the process. But at times wise voters do collect money and refuse to do the biddings of the mercantile politicians with the perception that votes are commodities that could be purchased. Similarly, politics is getting to be more profitable than legitimate business. A system with bad reward system where core professionals are pauperized and 'miscreants' claiming, millions as legislators on monthly basis cannot but become harbinger of violence. Desperation to win elections because of the expected high rate of returns cannot be ruled out of the mess.
Not only that a number of those desperadoes do not have any profitable job or ever pursued a successful career in the past, hence, the government has become their means of livelihood. For them to lose an election in a fair contest is nothing but to forfeit means of survival!
The snag, however, is the fact that the state is too weak to effectively combat the scourge of electoral violence. With porous borders that aided proliferation of arms and the concomitant effect of unwarranted militarization of the civil society, electoral violence has become the order of the day.
In the final analysis, all institutions that have to do with democracy must be strengthened. The most important of them are the police, military, the judiciary and political parties that are expected to operate professionally where security agencies compromise themselves, democracy becomes difficult to nurture. Above all, National Orientation Agency (NOA) if really in existence must be reactivated for it to change the worldview of Nigerians for them to see politics as service to the people rather than being merchantile.
Written by 'Gbade Ojo (Ph.D.)
Ojo is an Associate Professor of Comparative Politics, UNILORIN.