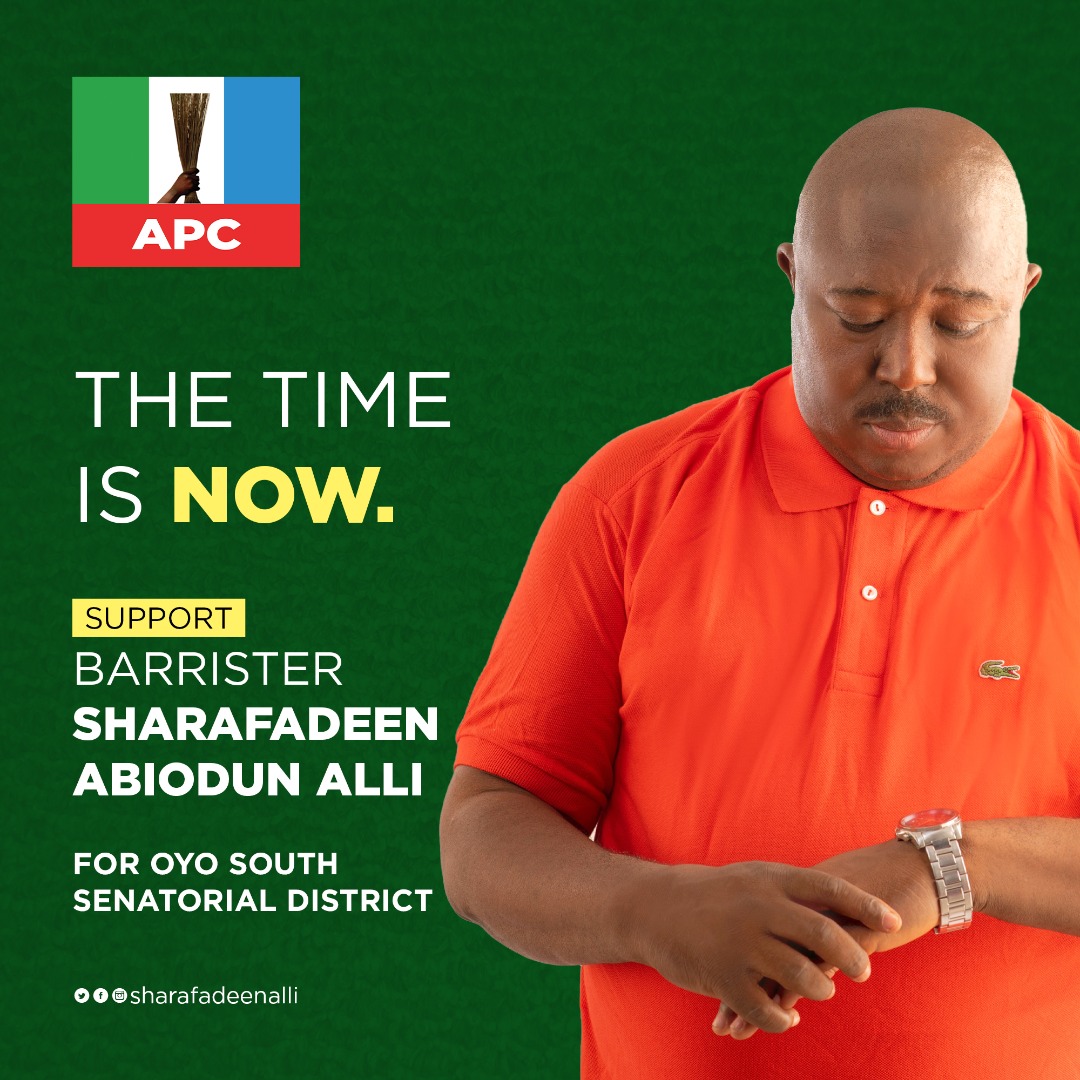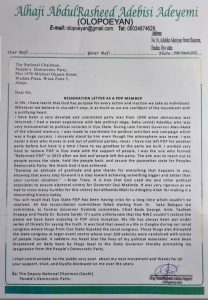 A chieftain of Peoples Democratic Party (PDP) in Oyo State, Alhaji Adebisi AbdulRasheed Adeyemi Olopoeyan, has explained that he resigned his membership with the party because of the inability of the National Working Committee (NWC) to restore peace to the state chapter of the party.
He said several peace committee set up by the NWC had failed to ensure justice in the state chapter of the party, while his life was under threat.
Oyoechonews recalled that Olopoeniyan
turned in his resignation on Wednesday in a letter addressed to Sen. Iyorchia Ayu, the National Chairman of the party.
The letter personally signed by the PDP stalwart in the state reads; "You will recall that Oyo State PDP has been having crisis for a long time which couldn't be resolved. All the reconciliation committees failed starting from Dr Saka Balogun led committee, to Former Osun state Governor, Prince Olagunsoye Oyinlola committee, Chief Bode George, and finally Dr . Bukola Saraki. It's quite unfortunate that the NWC couldn't restore the peace we have been enjoying in PDP since inception. My life has always been put under series of threats for saying the truth. It was God that saved my life in Osogbo during our zonal congress where thugs hijacked the zonal congress from Oyo state.
"These thugs also disrupted the parallel congress at Jogor event centre whereby about 200 vehicles were vandalized and people were injured. It saddens my heart that streets of Ibadan is occupied with thugs threatening people here and there. It is on this note, I want to announce my membership resignation from Peoples Democratic Party."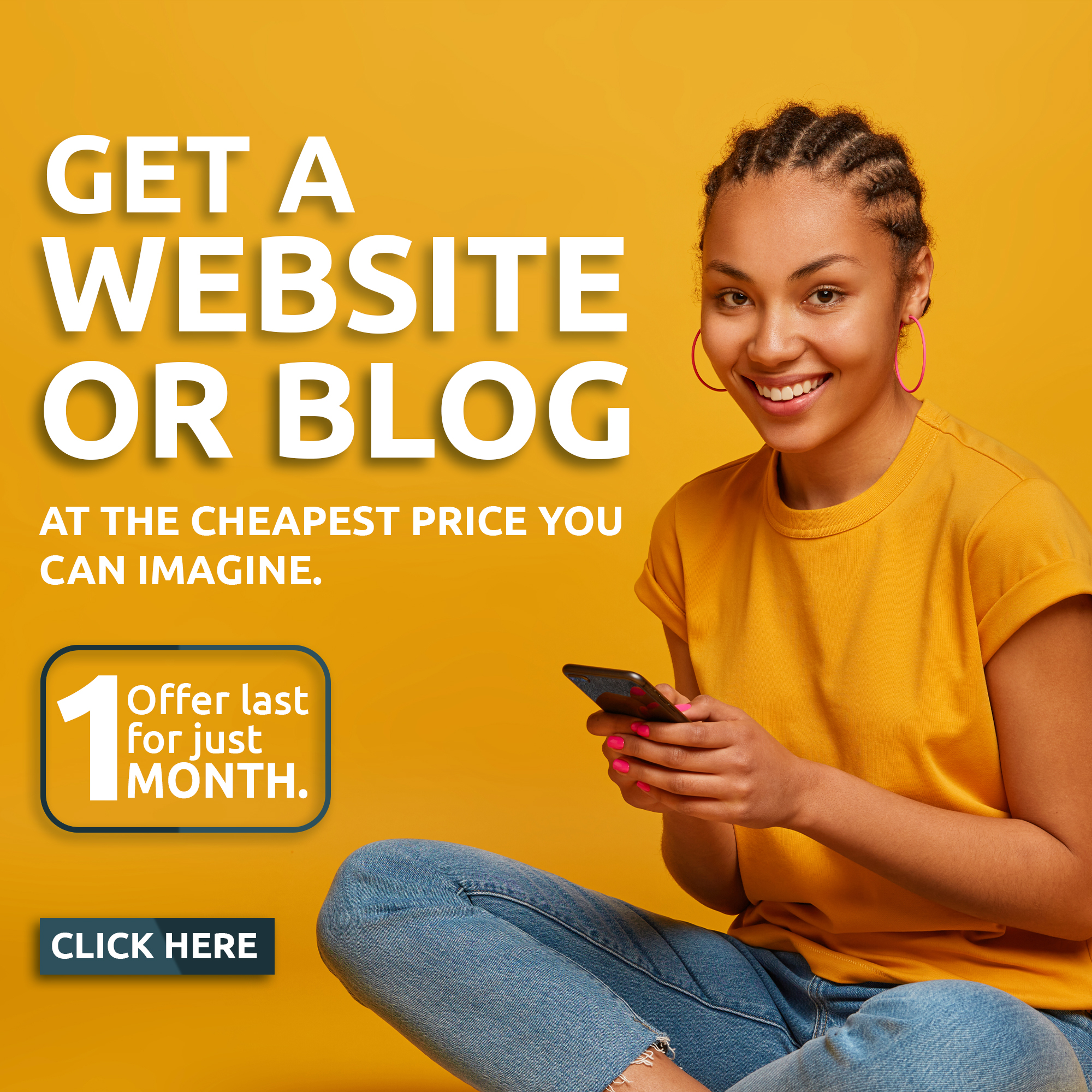 The letter further revealed that he had never left the party since 1999 that democracy returned to Nigeria, saying "in life, I have learnt that God has purpose for every action and inaction we take as individuals. Whatever we believe in shouldn't stop, in as much as we are confident of the movement with a justifying heart.
 "I have been a very devoted and committed party man since 1999 when democracy was returned; I had a sweet experience with late political siege, Baba Lamidi Adedibu who was very instrumental to political victories in Oyo State. During Late Former Governor Alao-Akala of the blessed memory, I was made to coordinate his political activities and campaign which was a huge success. I sincerely stood by him even though the atmosphere was tense. I was never a man who moves in and out of political parties, never. I have not left PDP for another party before but here is a time I have to say goodbye to the party we built. I worked very hard to restore PDP in Oyo state with the support of people, I was the one who formed "reformed PDP" in 2015 after we lost and people left the party. The aim was to reach out to people across the state, hold the people back, and secure the pacesetter state for Peoples Democratic Party. We thank God it was achieved.
" Develop an attitude of gratitude and give thanks for everything that happens to you, knowing that every step forward is a step toward achieving something bigger and better than your current situation." —Brian Tracy. It is true that God used me and other political associates to ensure electoral victory for Governor Seyi Makinde. It was very rigorous as we had to cross many hurdles for this victory but alihamdulilahi to Almighty Allah for making it a resounding history today.
"I, Alh Adebisi Olopooeyan hereby withdraw my membership from Peoples Democratic Party.
"I shall communicate the public soon for my next movement.
"Thank you all for your support, trust, and loyalty bestowed on me over the years."