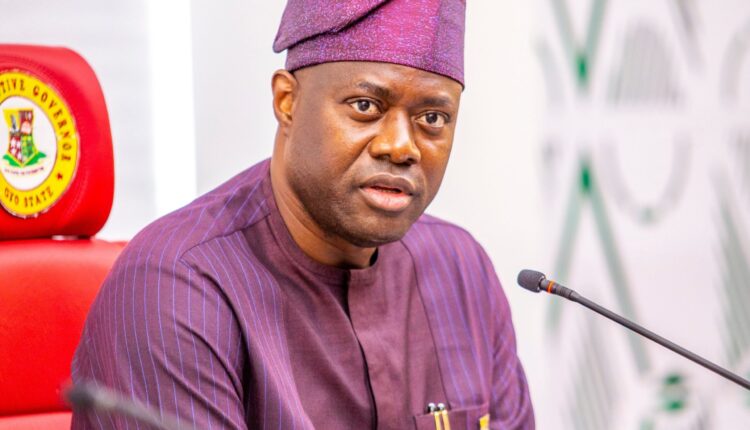 You Only Pay Lip Service To Fighting Insecurity,  APC Blasts Makinde The All Progressives Congress (APC) in Oyo State has identified lack of political will and insincerity on the part of Governor Seyi Makinde as the major reason for the worsening security situation in the state even as it urged relevant stakeholders to intervene in the interest of the masses and good people of the state.
Available reports indicate that cases of organized crime and security breach have been on the increase in parts of the state in recent times residents lament over seeming helplessness of the state government and the security agencies in tackling kidnappers, armed robbers, ritual killers, political thugs among others who now strike at will and subject their victims to untold agony and pains.
In a statement issued on Thursday and made available to journalists in Ibadan by its Publicity Secretary, Olawale Sadare, Oyo APC alleged that the PDP administration of Gov. Makinde was guilty of paying a lip service to matters relating to improving the security architecture of the state "as those responsible for crime surge take advantage of incompetence and poor commitment on the part of the government of the day to perpetrate their evil.
"Apart from the fact that Gov. Makinde has failed to demonstrate competence and commitment in power, he has not been able to show the world that he is capable of solving the myriad of problems facing the state particularly as this concerns insecurity, environmental degradation, youth unemployment, falling standard of economy, infrastructural deficit among others.
"The situation is made worse by Gov. Makinde's penchant for globetrotting and dereliction of duty since he prefers holidaying abroad and hibernating in Port Harcourt, Rivers state more often than not as it pleases him. It would have been better if the governor stay more at home and acquaint himself with details of happenings across the state on hourly basis. Worse still, Gov. Makinde does not have confidence in his imposed local government Chairmen who he recently accused of mismanaging security votes released to them.
"For some weeks now, there have been daily reports of of armed robbery and kidnapping on Ibadan-Ijebu-Ode and Ibadan-Lagos Expressway while governor's of Ogun and Lagos states have responded well, their counterpart in Oyo state was nowhere to be found as we have it on good authority that Gov. Makinde is in the United States for no reason other than tourism and junketing. The best he (Makinde) could from abroad was to intervene in matter involving the police and Mukaila Lamidi (Auxiliary) who has been fingered in many cases of billboard vandalism and harassment of residents of the state in recent times.
"Without mincing words, the daunting problem of insecurity in the nooks and crannies of Oyo state would be drastically addressed if Gov. Makinde decide to take the bull by its horn. First, he should established the necessary synergy with other stakeholders including all the security agencies and also stop treating the menace of miscreants with kids' glove. It is high time the governor was made to realize that no government can fight invading criminals successfully while keeping and indulging thugs and miscreants for locally for political engagement and ego massaging." Oyo APC said.